Brüel & Kjær Vibro, a supplier of condition monitoring solutions for rotating machinery, has launched its next-generation VCM-3 condition-monitoring platform for a wide range of industries.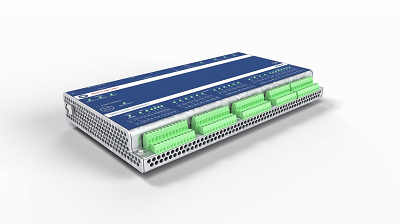 Source: Brüel & Kjær VibroThe VCM-3 is designed to increase the uptime and reduce overall life-cycle costs of pumps, fans, motors, gearboxes and many other types of machines, while increasing reliability. The field-proven VCM-3 is a 12-channel data acquisition hub targeted at full featured monitoring of auxiliary machines, balance-of-plant (BOP) non-critical machines and other assets in industries where cost-effective condition monitoring is required without machine protection. It features enhanced condition monitoring measurement techniques, easy system integration, built-in cyber security and simple IT solution installation.
A built-in OPC UA server enables the VCM-3 data to be seamlessly integrated with existing DCS, SCADA, data historian and other systems.
Sensor inputs:
12 differential AC/DC
Acceleration sensors
Simultaneous channel monitoring/204.8 kHz sampling
Communications hardware:
Three Ethernet ports usable as switch
Communications protocol:
Modbus TCP/IP
OPC UA server (embedded in VCM-3)