Samsung Electronics is furthering its presence in the 5G market with three new devices that will become the company's new flagship line called the Galaxy S20.
All three new smartphones — the Galaxy S20, Galaxy S20+ and Galaxy S20 Ultra — can support both non-standalone (NSA) and standalone (SA) capabilities. NSA uses the infrastructure of 4G to piggyback on networks that are already established while SA uses all 5G equipment and is widely considered the pivotal point where the technology can support the speed, low latency and high bandwidth the technology promises.
5G is the next generation cellular wireless technology that reportedly will allow for a boost in download speeds of up to 10 times current 4G technology. 5G also promises a lower latency than current network generations to enable virtual and augmented reality to be seamless and a higher bandwidth to allow more data to flow easier to mobile devices.
The Galaxy S20 supports 5G in the sub-6 GHz frequencies while the Galaxy S20+ and Galaxy S20 Ultra supports both sub 6 Ghz and millimeter wave (mmWave) frequencies. Samsung said the phones support both 1.2 Gpbs download and upload speeds, but as new infrastructure is put in place with software upgrades the phones could go beyond this in the future.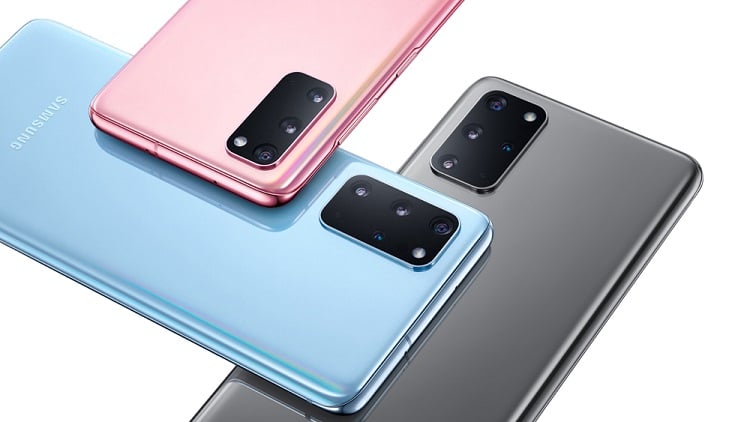 The new line of Galaxy S20s feature new camera architecture and are 5G compatible with the latest technology. Source: Samsung
The three smartphones feature a new camera architecture that combines artificial intelligence (AI) with image sensors for high image quality. The S20 and S20+ have a 64 megapixel camera while the S20 Ultra has a 108 megapixel camera. The camera architecture includes larger sensors that take in more light and Samsung's Space Zoom technology, which uses a combination of hybrid optic zoom and super resolution zoom for up to 30 times zoom using AI powered, multi-image processing to reduce quality loss at high zoom levels.
The Galaxy S20 includes a 6.2 in quad HD+ dynamic active matrix organic light emitting diode (AMOLED) display with 120 Hz display support and 12 GB RAM, 128 GB internal storage and 4000 mAh lithium ion battery. The Galaxy S20+ features a 6.7 in quad HD+ AMOLED with 12 GB RAM, 128 to 512 GB internal storage depending on the version and 4500 mAh lithium ion battery. The Galaxy S20 Ultra includes a 6.9 in quad HD+ AMOLED with 16 GB RAM, 128 GB to 516 GB internal storage, depending on the version 5000 mAh lithium ion battery. All three smartphones run on Samsung's 64 bit octa-core 2.7 GHz processor.
Additional features include ultrasonic fingerprint sensor and facial recognition as well as a sensor suite consisting of an accelerometer, barometer, gyro sensor, geomagnetic sensor, hall sensor proximity sensor and RGB light sensor.
Connectivity options include Bluetooth, Wi-Fi, USB Type C, NFC and location-based GPS, Galileo, Gionass and BeiDou.