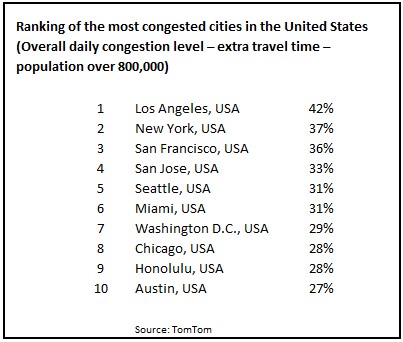 Despite the rise in ridesharing from the likes of Uber, Lyft and others, traffic congestion increased in 2019 in many U.S. cities, according to a new report from navigation giant TomTom.
The company detailed the traffic situation in 416 cities in 57 countries in 2019 and found that 44 of the 80 U.S. cities studied saw an increase in congestion levels. TomTom put together the information in order to help drivers make smarter choices in route planning and to avoid congestion. TomTom collected more than 221 billion miles of data in 2019 in order to find out where the most congested areas in the world are.
"In the U.S., it's paramount for city planners and policymakers to have all of the necessary tools at their disposal to help them properly analyze traffic levels and citywide congestion, which is exactly why we designed the Traffic Index — to help them make critical infrastructure decisions in real-time," said Nick Cohn, senior traffic expert at TomTom. "By identifying problem areas in live traffic patterns with the Traffic Index, we're helping optimize traffic flow and creating a safer, cleaner, congestion-free world together with our partners and drivers."
The traffic index is put together using high definition maps in order to provide car manufacturers, technology companies, road authorities and governments with tools to make roads less congested. The report is available online and city planners can review traffic details in their own cities with live traffic information to help make better decisions.
The report found that the top five most congested cities in the U.S. include Los Angeles, New York, San Francisco, San Jose and Seattle.
On average, American drivers spent about two hours and 23 minutes in traffic each week and they waste four days, 13 hours and 38 minutes per year in rush hour traffic.