New Yorker Electronics has signed a new franchise distribution agreement with T1Nexus to supply high-speed optoelectronic integrated devices and optics to a global market. With two decades of optical communication and networking experience, T1Nexus delivers highly advanced transceiver module, active optical cable (AOC)/fanout, optical bypass and serial digital interface (SDI) solutions. Its newest distributor, New Yorker Electronics, is an AS9120B and ISO AS9120:2016 certified global distributor of electronic components operating entirely at heightened military and aerospace performance levels.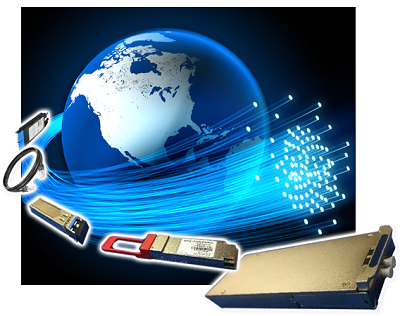 Source: New Yorker ElectronicsNew Yorker Electronics now distributes the full T1Nexus line of optical transceivers and embedded subcomponents including small form-factor pluggable Plus (SFP), small form-factor Pluggable Plus (SFP+), quad small form- factor pluggable (QSFP), digital-to-analog converters (DACs) and AOCs that can be fully TAA compliant. Also available are data center and open compute project (OCP)/hyperscale optical transceivers with lower power and extended temperature to optical by-pass modules, 5G fronthaul and backhaul, broadcast video line, serial digital interface (SDI) video transceivers and industry unique disruptors such as the Aperto SDO, software defined optics eeprom encoder in the cloud and rack bundled AOC and DAC harnesses.
From its R&D, warehouse and testing lab in California, T1Nexus applies networking solutions from highly select vertically integrated transceiver and cable manufacturers in the U.S., EMEA and Asia. This means they are always in an ideal time zone to deliver same-day shipping and continuous support around the clock. On top of which, lead times are short, either next day or within one to two weeks.

This vertical integration of high-volume manufacturers allows T1Nexus to supply the most advanced, future-proof design capabilities with deep engineering support. It also enables T1Nexus and New Yorker Electronics to deliver low-cost direct pricing, making it a less expensive and more effective option than simply adding more hardware to a design.
In addition, T1Nexus offers cutting edge solutions for 5G (including fronthaul and backhaul), next generation data center architectures including OCP integration and innovative wireless broadband networks. This allows carriers, data-centers, corporate campuses and enterprises to meet their network capacity needs now and going forward.

T1Nexus conducts its development and interoperable testing in the U.S. with Taiwan or the U.S. listed as the country of origin. It complies with TAA and is preferred by military, aerospace and Department of Defense agencies.
Features and benefits:
20% power saving on 100G SR4 reduces operational expenditures (OPEX)
Industrial temperature and 85° C versions available (100G SR4 ET)
Special/custom products: Rapid prototyping and low minimum order quantity (MOQ)
Maximizes capital expenditure (CAPEX) while reducing total OPEX
Ongoing reliability testing (ORT) provides additional quality assurance