Just a day after a different electric vehicle startup, Lucid, detailed and started preorders for its new car designed to compete with Tesla Motors, Fisker has started its own preorder campaign for its first electric vehicle (EV) called Fisker Ocean.
The all-electric SUV measures about 15 ft in length, 6 ft in width and about 5 ft in height and can fit five adults.
The vehicle features 20 cubic feet of trunk space with the rear seats up, 45 cubic feet with the seats folded, roof rails and towing hook, four-wheel drive and a heads-up display integrated into the windshield that works with a 16 in center touchscreen and a 9.8 in cluster screen. These screens will allow for augmented reality and haptic touch buttons to be implemented in the vehicle, Fisker said.
The EV contains an 80 kWh battery, allowing for a range of up to 300 miles and carries a CCS Type 2 combo plug allowing the car to be charged through stations that leverage technology that complies with international standards. In North America, Fisker Ocean will be able to use Electrify America's charging stations for charging, automatic release and automatic payments. More than 200 miles of range can be delivered from 30 minutes of charging.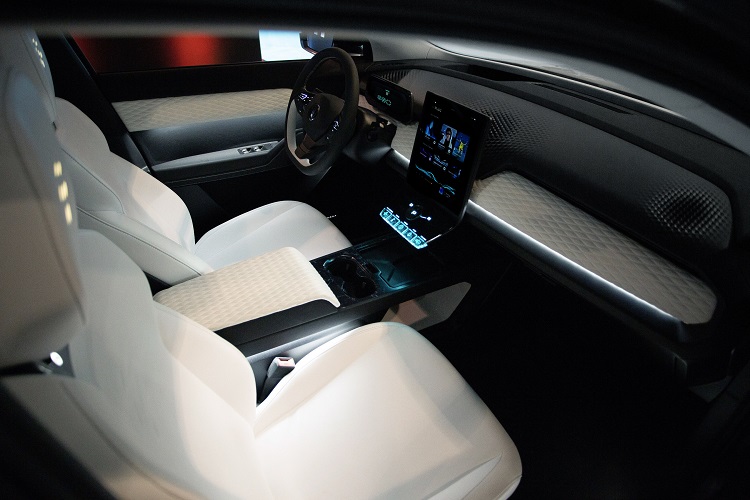 The interior of the Fisker Ocean includes a heads-up display, 16 in touchscreen and 9.8 in cluster screen. Source: Fisker
Other features include a full-length solar roof that can boost fuel efficiency and lower carbon emissions with 1,000 free, clean miles per year and Fisker said it will integrate hardware solutions for better energy yields in the future.
The company is manufacturing the car made from materials such as recycled carpeting, recycled plastic and repurposing rubber waste in order to create a car that ultimately reduces greenhouse gas emissions and contributes to a lower carbon footprint.
The Fisker Ocean is available for preorder right now and will start at a price of $37,499. Fisker is aiming for production to begin at the end of 2021 with high-volume deliveries projected for 2022.