Cinch Connectivity Solutions, a Bel group company and provider of connectivity solutions, launches 40 GHz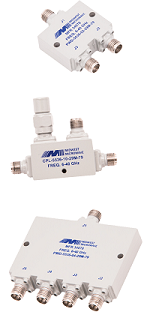 Source: Cinch Connectivity Solutionspower dividers and directional couplers designed to meet the higher frequency requirements in telecommunications and 5G applications.
The Midwest Microwave 40 GHz power dividers and directional couplers are small, lightweight and ruggedly built. They cover a wide bandwidth of 6 to 40 GHz with low insertion loss and low voltage standing wave ratio. The Midwest Microwave power dividers use the Wilkinson design for the lowest insertion loss and the highest isolation between output ports. The Midwest Microwave directional couplers incorporate strip line design with high directivity, thereby only allowing power to flow in one direction. Both use 2.92 mm female stainless-steel interface in an aluminum housing and are RoHS compliant. Midwest Microwave terminations are used in satellite communication equipment, cable assemblies and test and measurement equipment, and many other high frequency applications.
For more information on the Midwest Microwave power dividers and directional couplers, download the new Midwest Microwave 40 GHz power divider and directional coupler datasheet. The Midwest Microwave products are also available through distributors Digi-Key and Mouser.