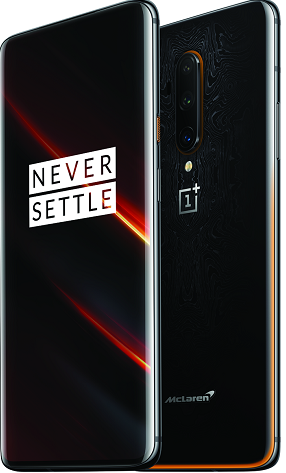 The 7T Pro 5G smartphone. Source: OnePlusWireless telecommunications giant T-Mobile said it will cover 200 million users with 5G by the end of this year as it expands coverage in cities.
At the same time, T-Mobile has introduced another 5G-capable smartphone from OnePlus, the 7T Pro 5G McLaren. T-Mobile said the smartphone will be a limited edition and details and pricing will come later this year.
"5G is the most transformative technology of our lifetime — faster speeds, better coverage, real-time responses, more connections," said John Legere, CEO of T-Mobile, in a statement. "It'll dramatically change our mobile experience, fuel brand new experiences and drive billions in economic growth and jobs, but only if everyone can get access to broad, deep 5G."
T-Mobile said it has thousands of 5G-ready towers and cell sites capable of lighting up 5G on the 600 MHz spectrum, which is considered to be the low end of the 5G spectrum. While this technology is not nearly as fast as the mid-band spectrum and considerably slower than mmWave 5G technology, much like 4G LTE, it is capable of working indoors and through walls, glass and the leaves on trees. One of the challenges with mmWave technology is that while it allows for speeds up to 10 times faster than current generation wireless, it has a hard time penetrating trees and other objects in the signal's path. Some companies such as AT&T and Verizon are only developing mmWave 5G while others are developing sub-6 GHz and mmWave 5G simultaneously.
While 200 million people seems like a lot for a recently introduced technology, T-Mobile is not saying it will have this many customers by the end of the year. But the potential to have that many customers will exist, given the deployment of 5G technology. These volumes are not expected to happen until a few years down the road. IHS Markit forecasts subscribers in Asia Pacific and North America will be negligible this year, but will ramp up to 1.1 billion users by 2023.
Meanwhile, Sprint has announced it will cover about 16 million people within nine metropolitan areas including Atlanta, Chicago, Dallas-Fort Worth, Houston, Kansas City, Los Angeles, New York City, Phoenix and Washington, D.C. However, Sprint claims that this number is an estimate and not the actual number of customers it has for 5G service.