Millennial engineers look at their work, their employers and their futures much differently than their colleagues with 30 or more years of experience. These younger engineers are also less concerned about the large gaps in workplace knowledge and experience that will result from the baby boom generation leaving the workforce. But millennials are overall more optimistic and committed to achieving a work-life balance than their older colleagues.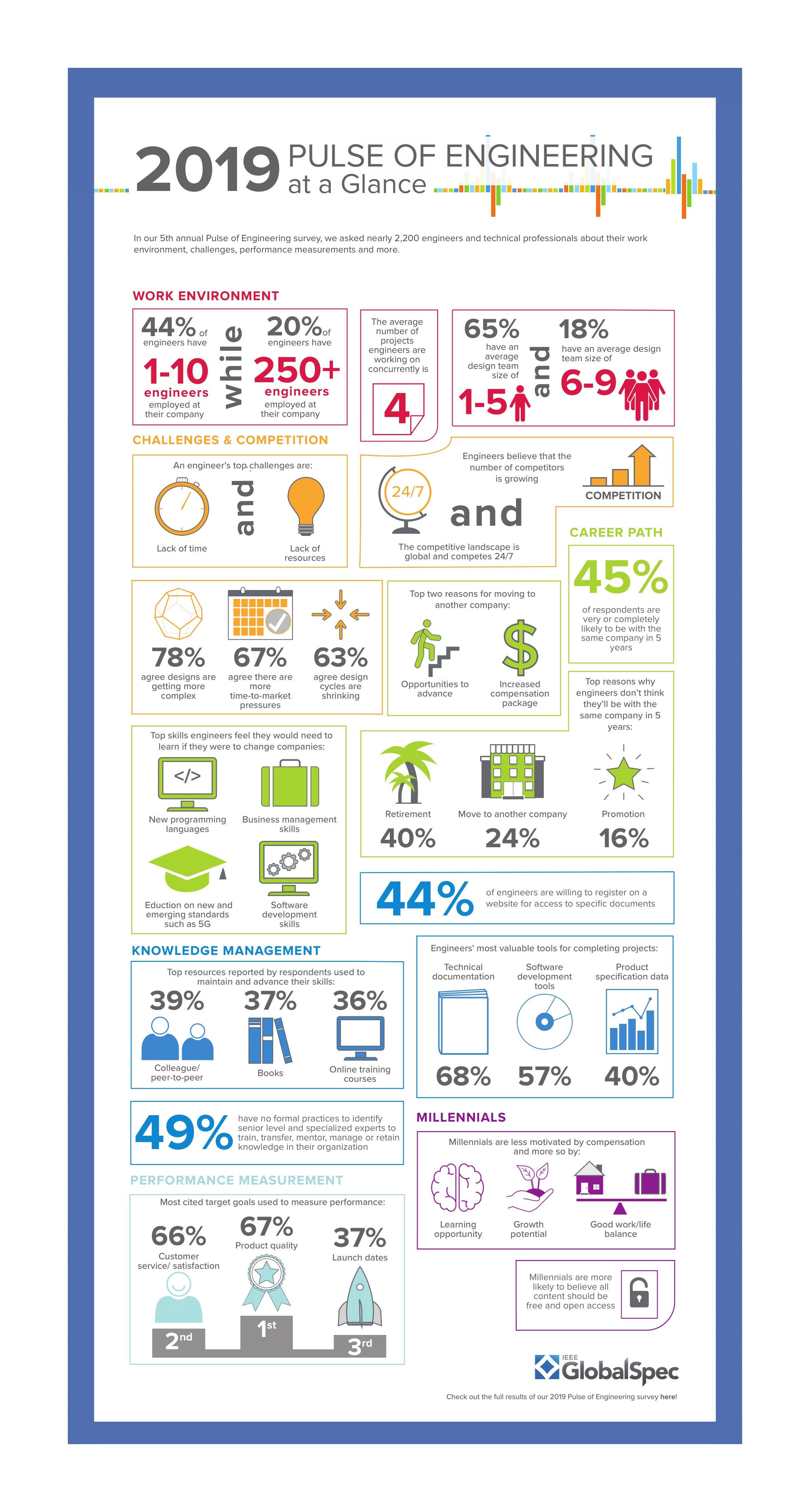 These are a few observations reported in IEEE GlobalSpec's fifth annual Pulse of Engineering survey, which is now available. The 2,180 respondents, drawn from both Engineering360 and IEEE Spectrum subscribers, represent a broad range of experience, job responsibilities and industries. They work for employers as varied as they are — from small startups with two or three engineers, to long-established multinational companies that hire tens of thousands of technical people. Despite its heterogeneity, this group of respondents shows several general trends.
Engineers work effectively despite challenges
A shortage of qualified engineers – both entry-level and senior — is just one problem cited by 70% of respondents. According to 71% of survey participants, other resource constraints limit innovation, productivity and product quality. These limitations come at a time when engineering designs are increasingly complex and design cycle time is shrinking. Design team size is also shrinking. Disruptive technologies — think 5G and IoT — can require course corrections during product design. Despite these and other challenges, engineers are achieving product quality and customer satisfaction rates of 85% and 82%, respectively.
Millennials are different — and their differences are valuable
Despite its small size (15% of the survey sample consists of engineers with nine or fewer years of experience) the cohort of millennial engineers brings a different set of life priorities to the workplace. Young engineers are recent graduates, so they bring state-of-the-art education and skills to their employers. In addition to these important qualifications, millennials' desire for meaningful work, good work-life balance and ongoing professional development will change the way employers need to attract and keep this next generation of engineers. In addition, these young people do not anticipate a linear career, working for only one or two employers. Employers will need to learn to prevent employee turnover from affecting product quality and productivity.
Critical knowledge is walking out the door
Companies are not always working at filling the knowledge and skills gaps created when older engineers, particularly baby boom generation engineers, leave a company. Younger staff moving from employer to employer also contribute to this gap. The 2019 Pulse survey found no improvement in the development of knowledge management systems to capture a company's intellectual property from all employees, not just the older cohort. Only about half of companies surveyed have systems to pass along and store these kinds of knowledge. Millennials cited their frustration when they cannot find this institutional knowledge.
Quality content is a key ingredient of quality engineering
Engineers rely on many kinds of content to do their jobs. Some, as described above, is created by their colleagues as they go about their jobs. This informal knowledge combines with product news and specifications, user manuals, training material, textbooks and other basic guides to engineering principles to enable engineers to do their jobs. Engineers in the survey expressed interest in obtaining new knowledge and skills, particularly new programming languages and artificial intelligence applications, to increase effectiveness at their current jobs and to prepare for new challenges in the future.
To dig deeper in this year's Pulse of Engineering report, download a copy here.