A new device from the National University of Singapore (NUS) called Asynchronous Coded Electronic Skin (ACES) gives robots a human-like sense of touch.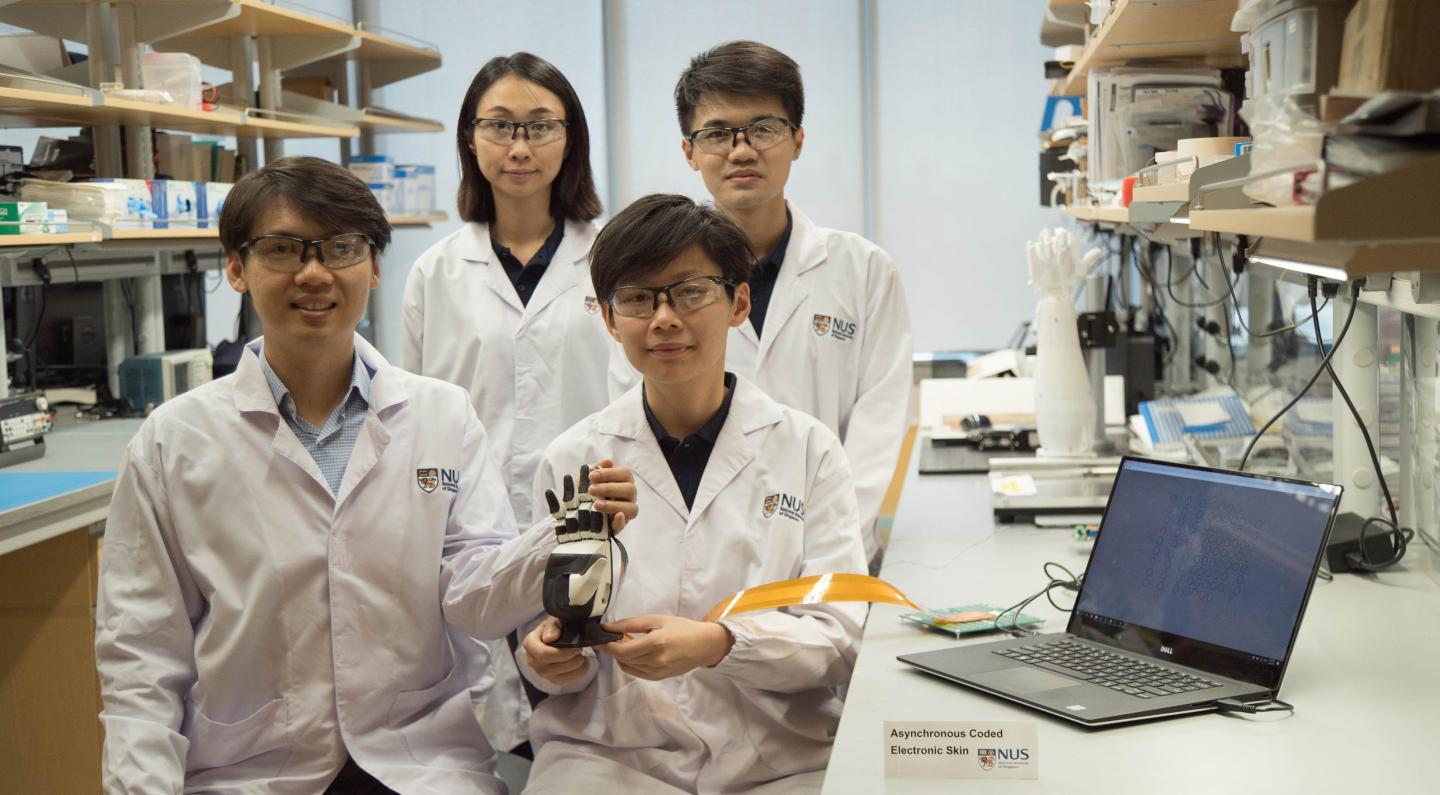 The Asynchronous Coded Electronic Skin (ACES) developed by Assistant Professor Benjamin Tee (left in front row) and his team responds 1000 times faster than the human sensory nervous system. Source: National University of Singapore
Sense of touch is incredibly important to humans. Touch helps humans walk, balance, detect temperature, detect pain and more. It is equally important to a robotic system, but until now a system that replicates human touch did not exist.
Before creating ACES, the NUS team reasoned that human sense of touch is not affected when it is cut, so why should electronic robot skin be any different? Consequently, the researchers were inspired to mimic the human nervous system and improve on it.
A current robot's sense of touch is weak, and robot skin devices are not sensitive enough or are too complicated to be scaled up for larger robots. ACES aims to change this. ACES has high responsiveness, making it more sensitive like human skin. It is also very durable so it can be scaled up and survive use, and can be used with any kind of sensor. Similar to the human nervous system, which is made up of bundles of nerves, ACES is made up of a network of sensors connected by a single electrical conductor. In the past, other electronic skins used interlinking wiring systems. This kind of system is vulnerable to damage and can be difficult to scale up.
ACES detects touches 1,000 times faster than the human nervous system. It can differentiate between physical contact between sensors in less than 60 nanoseconds. ACES can also accurately identify the shape, texture and hardness of an object within 10 milliseconds.
All of the ACES sensors are connected to a central electrical conductor. Each sensor operates independently, making the skin more durable. This also allows the ACES skin to work even when it is damaged, as long as one connector between a sensor and the conductor is still intact.
The system is simple and highly responsive, even when it is scaled up for artificial intelligence (AI), prosthetics, robotics and other human-machine interfaces. Even though more sensors are needed when scaling up, the ACES system still operates well.
In the future, ACES could be added to other systems to create a multi-use product. For example, it could be paired with a transparent, self-healing and water-resistant skin to create a self-repairing e-skin.
A paper on ACES was published in Science Robotics.