The new IN65 series of standard limit switches available from Altech Corp. integrates a plastic body and durable metal mounting clip and actuator lock to provide the economic advantages of plastic-bodied switches with the sturdiness of conventional metal-bodied versions. Their modular design and other special features offer application flexibility and ease of use for a wide range of position monitoring, product control and safety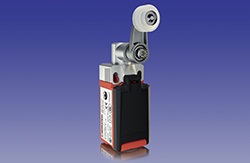 Source: Altech Corp.applications in industrial automation processes.
The metal mounting clip adds value and efficiency by allowing for tool-free assembly, rotation and changing of the switch actuators. The modular switch design can accommodate different multiple slow-action or snap-action contacts and is available with a large assortment of actuator styles. This built-in modularity can help reduce storage requirements and broaden application potential.
The IN65 limit switches have a protection rating of IP67 and are rated for more than 30 million mechanical cycles, while ensuring switching reliability for as little as 1 mA at 5 V DC. The switches conform to DIN EN 50047.
These switches, which are manufactured by Bernstein AG, have been engineered in standard dimensions and can be assembled with a variety of contacts and actuators to meet the specific requirements of an application. They provide reliable and durable solutions to successfully convert mechanical movement into electrical signals.