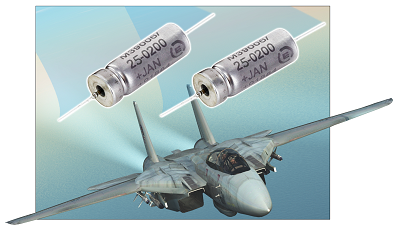 Source: New Yorker ElectronicsNew Yorker Electronics has announced that its Exxelia Mil Wet Capacitors are now qualified to Level P. The Exxelia MIL 39006/22 (equivalent to CLR79) series is now approved to 0.1%/1,000 h reliability for voltage ranges from 6 V to 125 V with a capacitance value ranging from 1.7 µF to 1200 µF.
Available in T1, T2, T3 and T4 case sizes, these products are housed in a hermetically sealed tantalum case operating from -55° C to 125° C and are designed to withstand the most stringent environmental constraints.

The Exxelia MIL 39006/22 is available with H vibration and shocks features. These state-of-art MIL-qualified wet tantalum capacitors are widely used in avionics applications where high performance and extreme reliability are required. They are also widely used in defense, power supply, converter, filtering and backup applications. Performance highlights compared to solid tantalum capacitors include more capacitance, higher ripple currents, lower ESR and lower DC-leakage current.
Data sheet:
• 39006/22