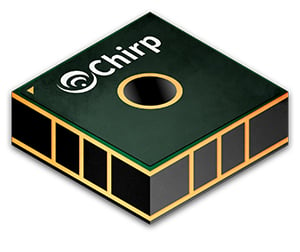 The Chirp CH-101 sensor. Source: TDKTDK Corp. is now shipping its microelectromechanical system (MEMS)-based ultrasonic time-of-flight sensor for consumer electronics, robotics, drones, automotive and the internet of things (IoT).
The Chirp CH-101 sensor uses an ultrasonic transducer chip to send out a pulse of ultrasound that listens for echoes returning from targets in the sensor's field-of-view. The sensor can determine the location of an object relative to a device and trigger a programmed behavior.
The MEMS ultrasonic technology uses a MEMS ultrasonic transducer with a power-efficient digital signal processor on a low-power mixed-signal CMOS ASIC. As a result, it can handle ultrasonic signal-processing functions as well as range-finding, presence/proximity sensing, object-detection/avoidance and position-tracking.
Other features include accurate range measurement regardless of target size or color, immunity to ambient noise, can operate in all lighting conditions and detects objects over 180° field-of-view.