OmniVision Technologies Inc. announced at the MD&M West trade show a major expansion of its OVMed medical image signal processor (ISP) family, designed to pair with its high-performance medical image sensors for quick integration into single-use and reusable endoscopes as well as catheters. Expanding on the launch of OmniVision's OVMed ISPs introduced in 2018, the new processors provide device designers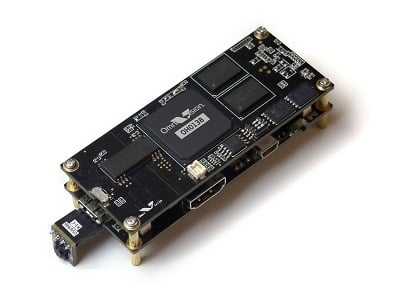 Source: OmniVision Technologies Inc.with more flexibility, creating additional options for resolution, frame rate and output, along with the best-in-class feature set.
The OVMed ISP family will be demonstrated at OmniVision's Booth 1784 at the MD&M West trade show in Anaheim, California, February 5-7.
The OVMed product line includes three classes of ISPs:
Mini for the smallest and most cost-effective option to integrate into an endoscope handle
Advanced for higher image quality while fitting easily inside a camera control unit (CCU)
Pro for the highest image quality and feature set that can also fit inside a CCU
The newly introduced Pro line provides best-in-class resolution of up to 4K2K, while supporting streaming video at 60 frames per second, along with high-end ISP functions that enable superior noise reduction and color accuracy for the highest level of image quality. Products in the Pro line accept up to four-lane digital MIPI/sub-low-voltage differential signaling (LVDS) input. Additionally, they can connect to image sensors via longer input cables of up to 5 m. The Pro ISPs also feature dynamic shading control, distortion correction, advanced backlight compensation, an automatic exposure and gain control window, exposure weighting and compensation, advanced auto white balance, color enhancement, hue, halation, contrast adjustment, enhancement and curve, high dynamic range, crop and digital zoom, resize, frame-rate control, freeze, time lapse, dual image display, illumination control, RAW 8/10/12 image output and RGB565/888 bypass mode.
These features make the Pro line ideal for use in medical endoscopes for gastrointestinal and airway-management applications.
Two new ISPs (Mini and Pro) in the OVMed family offer dual-channel processing that supports 3D stereoscopic imaging. This feature allows an ISP to take input from two image sensors and process it in parallel, providing surgeons with the ability to perceive depth during surgical procedures. The result is improved patient outcomes and reduced risk for endoscopic surgery, as well as better diagnostic accuracy.
All products will be medically certified to comply with IEC 60601 (electrostatic discharge (ESD), electromagnetic compatibility (EMC), electromagnetic interference (EMI), patient isolation), IEC 62304 (software quality) and ISO 14971 (risk management). Additionally, all nine ISPs are compliant with Registration, Evaluation, Authorisation and Restriction of Chemical Substances (REACH) and Restriction of Hazardous Substances (RoHS), and are manufactured in facilities certified to the ISO 13485 and ISO 9001 standards.