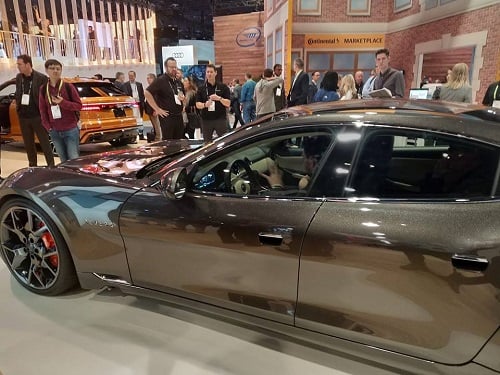 The vehicle with MQA's audio technology on the CES show floor. Source: MQAAudio streaming technology vendor MQA is entering the automotive market after an agreement to integrate its technology into BlackBerry's QNX Acoustics Management Platform.
The goal is to provide studio quality audio in next-generation connected and autonomous vehicles, MQA said. The QNX platform allows for hands-free in-car communication and noise-cancellation technologies, and the extension of high-quality audio into the platform is the next step, BlackBerry said.
The entry into the automotive audio market follows MQA's moves into the home and mobile markets. MQA has partnerships with three major record labels as well as music services such as TIDAL and Onkyo Music to offer master recordings for streaming and download. In the last 18 months, LG and Essential have launched mobile devices with MQA playback capability.
At CES 2019, MQA is demonstrating the audio experience in a showcase vehicle at BlackBerry's booth in the Las Vegas Convention Center's North Hall at booth #7523.
Click here to check out Electronics360's full coverage of CES 2019.