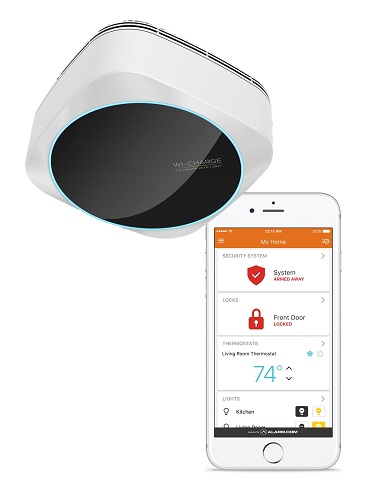 Smart home security devices powered by wireless technology. Source: Wi-ChargeWi-Charge is demonstrating how its long-range wireless power technology can be used in the smart home at CES 2019, which is taking place this week in Las Vegas.
The demonstration is of a prototype Schlage smart lock, powered by Wi-Charge's wireless power technology. Schlage is a brand from home security vendor Allegion, part of Alarm.com's smart home security system.
The goal for Wi-Charge is to show how smart home security devices like battery-powered smart locks, cameras and sensors can be run using wireless power in the home, eliminating battery issues and devices plugged into an AC outlet.
"We believe that long-range wireless power will unlock innovative new uses for the smart home and business where devices don't always have easy access to power," said Steve Chazin, vice president of products at Alarm.com.
At CES, the prototype will be on display as part of the future of the smart home ecosystem powered by wireless technology.
Click here to check out Electronics360's full coverage of CES 2019.