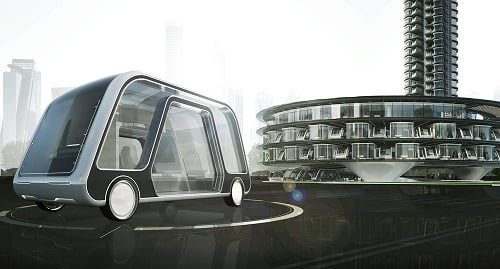 An illustration of the Autonomous Travel Suite outside an Autonomous Hotel. Source: Aprilli
Autonomous driving technology promises to allow a number of new advantages for passengers to use time in the car to do other things rather than the heavy stress of being constantly aware behind the wheel.
This could mean doing office work, taking meetings, watching entertainment or even sleeping.
As a result, a number of concept vehicles have emerged to take these ideas from fantasy to reality. IKEA recently debuted a number of concept vehicles that use autonomous technology to allow passengers to do anything from sleep to have a mobile office. Groupe Renault also introduced a prototype luxury autonomous vehicle that could include a bed or a bar or a working station. Even Google's Waymo self-driving car division has shown that when people aren't driving, they may do all sorts of things with their time including falling asleep.
Now comes the Autonomous Travel Suite, a driverless mobile concept vehicle that will offer door-to-door transportation service enabling passengers to sleep, work or even do laundry while traveling to a destination.
The concept vehicle comes from Aprilli, a Canadian-based design house, which is working with the Autonomous Hotel chain, a network of hotel facilities offering stationary parent units and public amenities for travelers, to provide an alternative to traditional travel.
The hotel chains will feature public amenities such as food and beverage, meeting rooms, pools, gyms and maintenance and charging services for the Autonomous Travel Suites. The hotels will provide unmanned vehicles that will pick up travelers from up to two hours away and deliver them back to nearby travel suites where the vehicles can get maintenance or new batteries.
The prototype vehicle recently won a Radical Innovation Award 2018, an annual competition that gives kudos to design ideas in the hospitality industry.
The prototype vehicle and autonomous hotel are designed to speed up the processing of checking in, waiting and transferring between means of transportation, allowing users to customize travel stops.
Aprilli said the Autonomous Travel Suite is aimed at changing how the hospitality market works by merging transportation and hotel into one form in order to meet a flexible consumer economy, lower costs and improve privacy as well as comfort.
While the technology is designed specifically for long-distance travel, it can also be used for the full scope of travel from personal commute or leisure trips, the company said.