Counting calories, monitoring heart rate and tracking steps are common functions of wearable fitness monitors. This tracking technology has now been extended to the analysis of physical parameters to help with screening,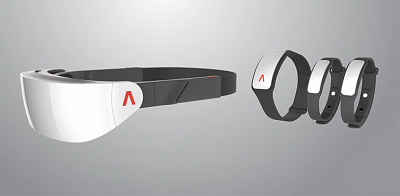 A potential production version of SysteMD by Draper. Source: Radiusdiagnosing and monitoring mental health conditions.
The System with Sensors to Evaluate Mental Disorders (SysteMD) developed by researchers at Draper has been validated in pilot studies for post-traumatic stress disorder (PTSD) and depression. SysteMD accurately classified 82% to 94% of patients with PTSD and shows potential for improving detection, treatment and monitoring of anxiety, substance abuse and other mental health conditions.
The wearable keeps track of heart rate, skin sweating, respiration and pupil diameter, and uses a set of algorithms to identify patterns that could help clinicians detect issues of concern and prepare appropriate treatment regimens.
Still in the prototype stage, a production version of SysteMD could include a headset, wristbands and an ankle band designed to sense changes in a patient's physiological and biological systems.