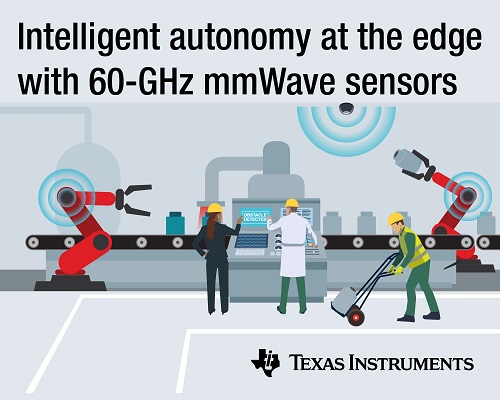 The IWR6x mmWave sensors. Source: TITexas Instruments (TI) introduced a 60 GHz sensor portfolio to advance millimeter-wave (mmWave) technology for industrial applications.
The single-chip CMOS IWR6x sensor portfolio provides industrial automation through on-chip processing capabilities, providing real-time decision-making and signal processing. The 60 Ghz mmWave sensors include antenna-on-package offerings that shrink radio-frequency design sizes up to 75%, reducing overall costs.
The sensors for mmWave technology are for a range of industrial applications, including robotics, factory automation and building automation designs, by leveraging the ISM band for broad deployment. The IWR6x sensors provide up to 4 GHz of ultra-wide bandwidth to detect objects and motion up to 16 times more accurately than 24 GHz narrowband solutions. The sensors integrate processing capabilities to reduce false positives and make real-time decisions, eliminating the need for a microcontroller or processor in many systems.
Preproduction of the devices is slated to begin this month.