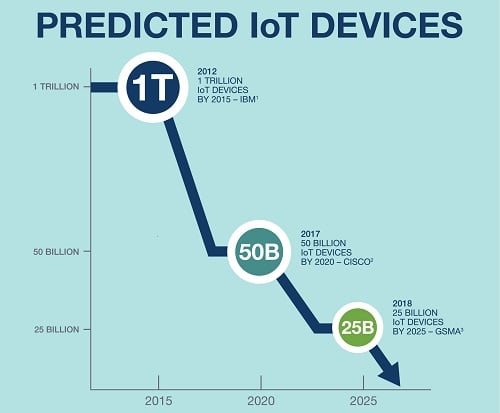 The expectations for how many devices will be connected continues to decline. Source: PsiKickThere have been numerous predictions about how many connected devices will be available in the future.
In 2015, IBM predicted that 1 trillion devices would be connected to the internet and the internet of things (IoT). In 2017, a Cisco-revised forecast called for 50 billion devices to be connected by 2020 and, most recently, the GSMA Association predicted 25 billion IoT devices by 2025.
So why are expectations about the number of connected devices in the future on the decline? The answer may have to do with the batteries that power these devices.
IoT sensing system vendor PsiKick said that the number of IoT devices continues to fall short of expectations due to a reliance on batteries, specifically citing the need to replace these batteries.
Some batteries need to be replaced every three years in IoT devices, with a best-case lifespan of 10 years. This means that there are 274 million battery replacements per day in a best-case scenario and a whopping 913 million battery replacements per day with a three-year lifespan.
"Exploring the battery problem in a trillion-sensor world is overwhelming, but even putting it into the perspective of an industrial environment with just 10,000 sensors, that's still nearly 3,333 battery replacements each year," said Brian Alessi, director of product marketing at PsiKick. "In many cases, the additional labor cost alone of monitoring and replacing batteries begins to eclipse the benefits of the wireless sensors themselves."
In the industrial IoT market, batteries with finite lifespans can lead to gaps in mission-critical data, manual battery inspections, safety risks and reduced sensor data.
What's the solution? PsiKick, which develops battery-less technology for the IoT, naturally believes energy harvesting technology could be an alternative, but there have been numerous developments for next-generation batteries that could make a huge impact as well. These include sodium-ion batteries, longer-lasting lithium-ion batteries, aluminum batteries, lithium-sulfur batteries and many more.
To learn more, PsiKick has issued a new infographic detailing its findings and opinions.