New Yorker Electronics has released the new Moxie Inductor Corporation RJ45 Connector with HDMI connectivity. The MOX-RJ45-HDMI-038 series streamlines the audio/video interface by eliminating the need for two separate ports. These durable connectors are ideal for display controllers, computer monitors, video projectors, digital televisions and digital audio devices.
Moxie has standard devices with yellow and green LEDs and also produces custom versions by offering quick turnaround on models with or without LEDs, custom LED colors, custom EMI tabs and custom case designs.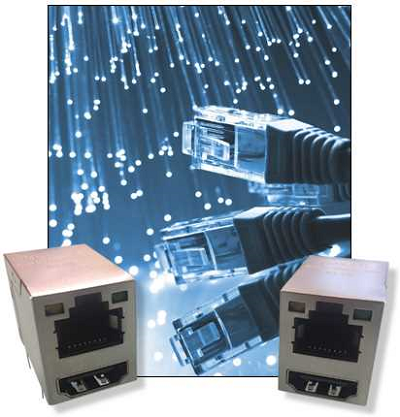 Source: New Yorker Electronics Standard operating temperature is -40° C to 80° C; however, industrial temperature versions are also available. These Moxie connectors have a voltage rating of 125 V AC RMS and a current rating of 1.50 A. They have a dielectric strength of 1,000 V AC RMS 50 Hz or 60 Hz, one minute and retention strength of 7.7 KG.G per minute between the jack and the plug.
MOX-RJ45-HDMI-038 is rated at a 30 milliohms maximum contact resistance and at 700 cycles per minute. Like all Moxie products, the Moxie HDMI RJ45 connector series is RoHS and REACH compliant. Housing materials include PBT UL94V-0 synthetic thermoplastic with an insulation resistance of 500 megaohms per minute at 500 NDC. The contact material is 0.45 mm diameter phosphor bronze gold plating over nickel with a mating/unmating force of 2.2 G.F. maximum.
New Yorker Electronics is a franchise distributor of Moxie Inductor Corporation and supplies its full line of high current, shielded and unshielded, laser cut chip, ceramic chip, ferrite chip and power inductors; surfact-mount and through-hole USB connectors; RJ45 connectors, radial leaded toroids, radial power line and common mode chokes and more.
Features and Benefits:
Voltage rating: 125 V AC RMS
Current rating: 1.50 A
Contact resistance: 30 milliohms maximum
700 cycles per minute
Insulation resistance 500 megaohms per minute at 500 NDC
Mating/unmating force: 2.2 G.F. maximum
Housing materials: PBT UL94V-0
RoHS and REACH compliant
Applications:
Display controllers
Computer monitors
Video projectors
Digital televisions
Digital audio devices
Data Sheet: