Vishay Intertechnology, Inc announced its technology lineup for Electronica 2018, taking place November 13-16 at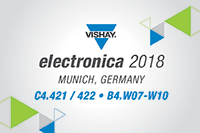 Source: Vishay Intertechnology, Inc the Munich Trade Fair Centre in Munich, Germany. In its main booth and Automotive Innovation booth, Vishay will be exhibiting its latest industry-leading passive and semiconductor component, optoelectronic and sensor technologies for a wide range of applications. The main booth will be located at C4.421-422, and the Automotive Innovation booth can be found at B4.W07-W10 — both new locations for the company this year.
"At Electronica, one of our primary goals is to show engineers that we are a one-stop shop with a very broad portfolio of solutions to meet all of their application needs," said Johan Vandoorn, chief technical officer and deputy to the CEO at Vishay. "We will be exhibiting an enormous range of products in both our main and automotive booths. Highlighted new products such as our gallium nitride MOSFETs, multi-spectral optical sensors, and diodes for 48 V electrical and hybrid vehicles will demonstrate that we are innovative across a variety of market segments, from automotive and IoT to home automation and 5G."
Exhibition highlights:
Custom passives — Vishay has the capability to deliver a custom passive solution to meet your specific design requirements. Talk to one of our experts about the variety of core materials and terminations available for filter inductors and power pulse transformers, enclosure types for grid resistors, shapes and sizes for RF power plate capacitors pre-conditioning options for wirewound resistors and much more.
Automotive X-ray demonstration — Get an X-ray view inside an e-car and see how Vishay technology is enabling the e-mobility evolution.
Latest GaN technology — MOSFETs on display will include a 100 V enhancement-mode GaN HEMT device with a dedicated Kelvin source gate return. With a gate charge of only 5 nC — more than 10 times lower than existing silicon MOSFET technology — and on-resistance of 5 mW, the device offers low gate charge times on-resistance FOM to reduce switching losses.
Key components for 48 V board net systems — For DC/DC conversion and battery management, Vishay will be showcasing power MOSFETs in new space-saving PowerPAK® 8x8L packages, XCLAMPRTM transient voltage suppressors (TVS) with extremely low clamping ratios, custom magnetics including hybrid planar transformers, battery shunt resistors, DC-Link film capacitors, IHLP® low profile, high current inductors, current limiters featuring PTC resistors and high current thermal fuses. A highlight at the Automotive Innovation booth B4.W07-W10 will be a live power demonstration of a 48 V and 12 V Board Net system.
Diodes and thyristors for onboard chargers in EV and HEV — On view will be Vishay AEC-Q101 qualified devices in surface-mount DPAK / D2PAK and through-hole TO-220 / TO-247 packages with high current up to 79 A and high voltages to 1600 V.
Proximity, presence and humidity detection for IoT and home automation devices — Vishay will be showcasing a fully integrated, light-to-digital sensor for proximity sensing up to 1.5 meters with 12 or 16-bit resolution — in addition to a capacitive atmospheric humidity sensor with a humidity range of 10% to 90%.
Tantalum capacitors featuring MAP (multi-array packaging) assembly technology — For IoT power management, transmitter burst current support and replacement of high capacitance MLCCs, Vishay will highlight vPolyTan™ polymer surface-mount chip capacitors designed to deliver increased volumetric efficiency. Combining polymer tantalum technology with Vishay's high-efficiency MicroTan® packaging, the devices achieve industry-best capacitance-voltage ratings in six molded case codes.
Multilayer ceramic chip capacitors (MLCC) for 4G / 5G transceivers — Vishay will highlight surface-mount, high-frequency MLCCs with Q > 2000 and ultra-low ESR, high-temperature MLCCs offering an excellent aging rate of 0% per decade and surface-mount RF capacitors with low DCR and high Q.
Magnetic encoders for robots — For position sensing in robotics, Vishay rotational absolute magnetic kit encoders with high accuracy and resolution under harsh environmental conditions will be on display.
Electronica is the world's leading trade fair for electronics. More information about visiting Vishay at Electronica is available at http://www.vishay.com/landingpage/tradeshows/electronica2018/.