Widely used for medical diagnostics, homeland security and other applications, X-ray imaging technology converts high-energy X-ray photons to visible luminescence. Most scintillator materials used for this purpose are expensive, large inorganic crystals with low light emission conversion efficiency, necessitating a high X-ray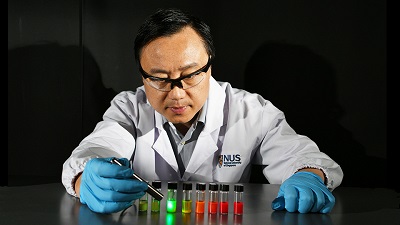 A team led by professor Liu Xiaogang developed perovskite nanocrystals (in the bottles) that are highly sensitive to X-ray irradiation. Source: National University of Singapore dose for effective imaging. Conventional scintillators are also usually produced using a solid-growth method at a high temperature, making it difficult to fabricate thin, large and uniform scintillator films.
Novel lead halide perovskite nanocrystals developed as new scintillator material at the National University of Singapore could lead to less costly and safer imaging systems. The nanocrystals are highly sensitive to X-ray irradiation and were incorporated into a flat-panel X-ray imager. The result is a new type of detector that senses X-rays at a radiation dose about 400 times lower than the standard dose used in current medical diagnostics.
The nanocrystals detect small doses of X-ray photons and convert them into visible light, and can be tuned to scintillate in different colors in response to the X-rays absorbed. The materials can be produced using simpler, less-expensive processes and at a relatively low temperature.
Experiments confirmed higher resolution X-ray imaging with lower radiation exposure relative to conventional scintillators. The researchers said that with this technology, X-ray images can be directly recorded using low-cost digital cameras or even mobile phone cameras. The nanocrystal scintillators can also be applied to examine the internal structures of electronic circuit boards.