Signal Transformer, a Bel Group company and global manufacturer of custom and standard transformers, chokes, inductors, transformers and SMD inductors, announces a new SMD and high current toroidal inductor (HCTI) design kit for multipurpose applications. This new design kit provides a varied selection of SMD and toroidal inductors to design engineers who are looking for products to support DC/DC converter processing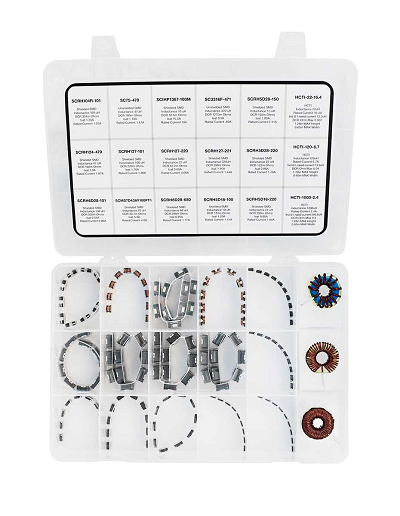 Source: Signal Transformerequipment, battery powered logic controls, power supplies, FPGA and more.
The multipurpose design kit features SMD inductors that have an inductance range of 10 uH to 470 uH, a DC resistance range of 0.18 mΩ to 535 mΩ, and saturation current range of 0.50 A to 15.5 A. The kit also features toroidal inductors that have an inductance range of 22 uH to 1000 uH, a DC resistance range of 0.007 Ω to 0.3 Ω, lower operating temperature and high current-carrying capacity at low cost.
Products include: HCTI toroidal inductors as well as SC75, SC3316F, SCRH5D18, SCRH5D28, SCRH6D28, SCRH8D28, SCRH124, SCRH127, SCRH104R, SCIHP1367 and SCMS7D43AY SMD series inductors. Signal transformer products utilize custom design coil construction and ferrite material for lower DCR in a smaller package. The HCTI series features high efficiency through reduced core loss, low magnetic radiation from self-shielding and high energy storage with distributed air gaps. Custom versions are also available upon request.
The multipurpose design kit will be available through our distribution network via Digi-Key, Mouser and Arrow. For more detailed information, visit Belfuse.