Researchers from Korea Advanced Institute of Science and Technology have developed a new, stretchable, pressure-insensitive strain sensor that has an all solution-based process for wearables, robots, prosthetics and more. The new process and sensors can be scaled up for large areas, as well as be spray coated as a thin-film on a 3D, irregularly shaped objects. The processing technique is unique because of the new conditions in which it can be used.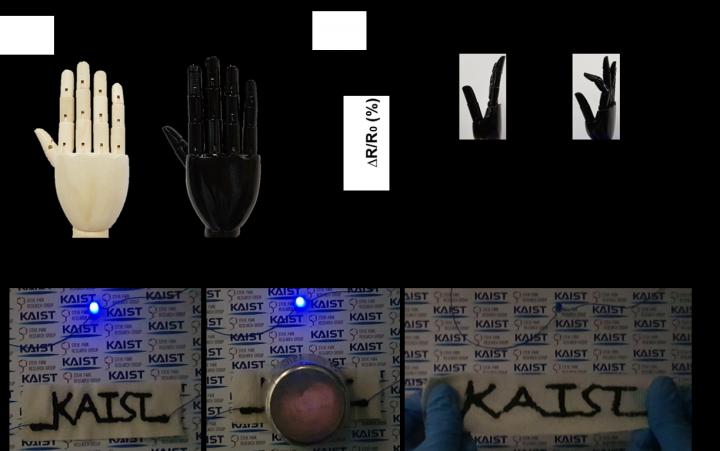 This is a fabrication of e-skin using various printing methods and the detection of signals for wearable and robotic applications. (Source: KAIST)
The new sensors and application technique works for electronic skin on wearables. Electronic skin mimics the natural tactile sensing of human skin. The team is researching applications for robotics, wearables and prosthetics.
Electronic skin is promising but it has a few challenges. One is the inability to differentiate between external stimuli. It has an especially hard time differentiating between strain and pressure. There is also difficulty in uniformly depositing the electrical skin on 3D and irregular surfaces.
The team overcame these challenges by creating an electronic skin that could be uniformly coated onto 3D surfaces. The new electronic skin can distinguish between mechanical stimuli, just like human skin. It was also designed to respond differently when experiencing applied pressure or strain.
When under applied strain, the conducting pathways of the electronic skin have significant conformational changes in resistance. When experiencing applied pressure, there are conformational changes in pathways of the skin.
The team mapped out local strain without patterned electrode arrays using electrical impedance tomography (EIT). EIT makes it possible to minimize the number of electrodes used in the electronic skin. EIT also increased the durability and enabled facile fabrication onto 3D surfaces.
Professor Steve Park from the department of materials science and engineering said, "Our electronic skin can be mass produced at a low cost and can easily be coated onto complex 3-dimensional surfaces. It is a key technology that can bring us closer to the commercialization of electronic skin for various applications in the near future."
The paper on the new electronic skin was published in ACS Nano.