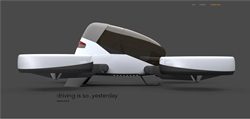 Source: FLUTR
A flying car will be on display for the first time at the Paris Motor Show. The vehicle is being developed by FLUTR (Flying Urban Transport), a German aerospace transport start-up. FLUTR is developing the vehicles and technology to enable safe, simple, quiet and inexpensive door-to-door aerial transport in an urban environment.
FLUTR has been invited to be a lead exhibitor at the Paris Motor Show, where it will emerge from "stealth mode" and debut the feature vehicle, the FLUTR 1. FLUTR believes that because of the vehicles' strong styling and quiet innovative aerodynamics, it will become as ubiquitous as electric cars.
When one can fly a vehicle directly from a driveway to his or her workplace, client's workplace or school, there will be lots of parallels to the automotive experience. The freedom to use door-to-door aerial transport is now as simple. As the future of transport starts to engineer away the challenges of getting millions of people into these vehicles, the forward-thinking team at the Paris Motor Show is also embracing a new aerial solution by investing in a large urban mobility display and seminar.
Just a few years ago, the flying car was only a distant future possibility, but recently more and more people are becoming open to the technology becoming a reality. With 1.2 million visitors at the Paris Motor Show, this is a great opportunity for drivers to get familiar with their FLUTR — the next mode of transport, automotive purchase and, in some cases, automotive replacement.
To learn more about the flying car, visit FLUTR.