A new challenger has emerged to compete against the dominance of the Apple Watch in the wearables market in the form of Viita Titan HRV, a luxury watch that doubles as a health monitor and features route tracking through GPS.
Manufacturer Viita Watches made the Titan HRV from titanium material with a ceramic bezel that makes it scratch resistant as well as lighter than other materials. The touchscreen is made of sapphire glass, which Viita claims is almost indestructible as well as scratch resistant.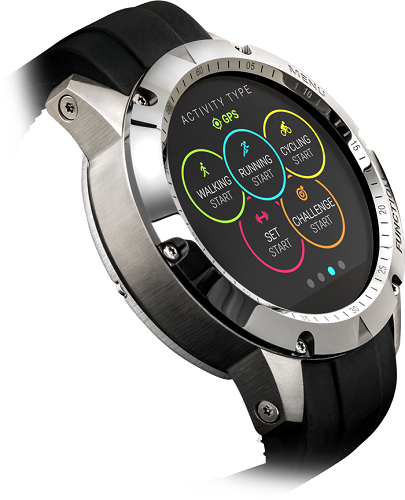 The Viita Titan HRV smartwatch has already met its Kickstarter goal. Source: Viita WatchesThe built-in GPS feature records all movements and shows them on the touchscreen. The combination of GPS and GLONASS satellite systems allows for centimeter-accurate route tracking making it easier to go on hikes or while camping.
Featuring machine learning, the smartwatch tells the user's pulse range or how hard they should train. The watch analyzes a heart rate variability 24/7 and uses algorithms to calculate individual daily constitution-dependent training recommendations for endurance sports and strength training. The Viita Titan HRV also tracks water consumption and will alert the wearer to possible dehydration issues.
Battery life lasts about two weeks and the watch is waterproof up to 10 ATM.
Viita Watches is currently having a Kickstarter campaign in order to drum up production funding as well as generate word-of-mouth. While the campaign has already reached its goal, you can still take advantage of the early bird pricing on the smartwatch at Kickstarter.