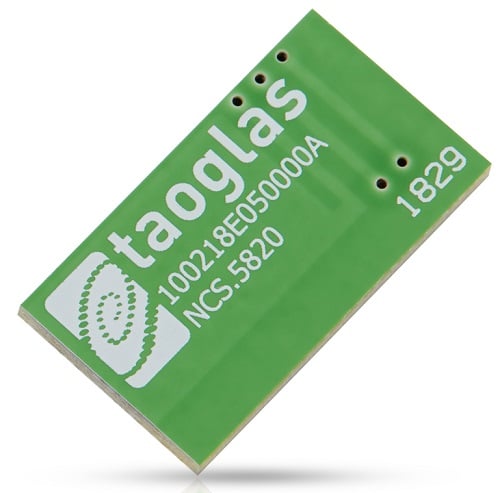 The NCS.5820 antenna. Source: TaoglasAt Mobile World Congress Americas, Taoglas has introduced the first three narrowband internet of things (IoT) antennas in a new series designed to assist device manufacturers in creating small form factor next-generation devices.
The Extensis range of antennas includes what Taoglas claims is the world's smallest ceramic NB-IoT antenna that covers Band 5, 8 and 20 simultaneously with single matching configuration and a thin, flexible multiband antenna to support all LTE bands.
The NCP.5820 is an NB-IoT ceramic surface mount multiband antenna that supports Bands 8 and 20 as well as Band 5 to allow IoT devices like asset trackers to work across different regions and different carriers. The NCP.5820 delivers up to a 2 dB improvement in antenna performance when integrated into small devices when paired with Taoglas Boost, which the company debuted earlier this week.
Another antenna is the FXUB64 flexible ultra-wideband antenna designed to work in frequencies in the 600-3000 MHz spectrum for all Cellular, 2.4 GHz Wi-Fi, ISM and AGPS including LTE Band 71.
Because of their small form factor, the antennas are suitable across a range of NB-IoT and LPWA devices including LoRA, SigFox and ISM.
Mobile World Congress Americas is taking place this week in Los Angeles.