DECA SwitchLab, worldwide manufacturer of terminal blocks and industrial switches, has signed a distribution agreement with New Yorker Electronics.
The growth of the global industry controls and factory automation markets has driven the growth of the terminal block market. Similarly, industrial limit switches, used to control machinery or as measurement and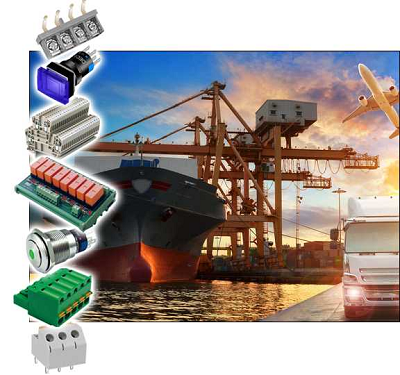 Source: New Yorker Electronicssafety equipment in factories, are in higher demand with the increased industrialization.
With over three decades of experience in industrial automation products and over 40,000 of the latest developments in pushbutton switches and terminal blocks, DECA remains a leading manufacturer worldwide. All DECA products are backed by global industry standard certifications such as UL, CUL, CSA, VDE, TUV, CE, CQC, CCC and CCS. Its in-house equipment in injection, molding, stamping and other mechanical machinery systems streamline product development and production times and reduce costs to offer competitive pricing for quality products.
DECA addresses many industry sectors including industrial automation, transportation, green (sustainable) energy, lighting, communication, safety and security, shipbuilding, escalators and elevators, industrial instrumentation and meters, power grids at all levels, various CNC systems and more.
The Asia Pacific region is a leading force in the telecom market. DECA maintains two factories in China, one of the largest consumer countries in the automotive segment and therefore terminal blocks. They have another factory in Japan, where DECA dominates just over 50% of Taiwan's market. Increasing adoption of automation in factories has also made the United States and Germany major market influences.
New Yorker Electronics, an AS9120B and ISO 9001:2015 certified source of electronic components, has been serving the global electronic components market since 1948 and is structured to perform at home and abroad, including the Asian and European markets. This makes the new team a natural fit and positioned to excel.
As a franchised distributor, New Yorker Electronics will be distributing the entire line of DECA SwitchLab products, including terminal Euro-type, barrier-type, DIN rail, push-in and H-type terminal blocks, plus industrial I/O modules and industrial switches including compact pushbutton switches, illuminated switches, emergency stop switches, vandal resistant switches, cam switches and float level switches.