CO2Meter is a Florida-based business specializing in the design and manufacture of gas detection and monitoring devices, mainly carbon dioxide. The company is a long-term and highly valued application partner of Gas Sensing Solutions (GSS) and has been using and supplying the next generation, LED-based CO2 sensors at the heart of its range of CO2 detection devices. These range from level controllers to alarms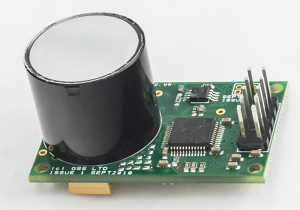 GSS ExplorIR CO2 sensor. Source: GSSand data loggers. It has recently extended its range of CO2 alarms with the addition of a version that can handle up to 100% concentrations of CO2.
"We use GSS NDIR CO2 sensors because of their best-in-class technology and proven reliability," said Ray Hicks, CTO at CO2Meter. "Because GSS manufactures its sensors with their own proprietary LEDs – rather than using a heated source of IR – the sensors are small, robust and provide almost instant readings."
GSS manufactures a range of sensors – under the ExplorIR and SprintIR brands – that are capable of reading up to 100% CO2 concentrations.
Hicks continued, "In fact, GSS provided us with our first ever 100% CO2 Sensor many years ago. As an example, we've used the ExplorIR®-W with voltage output to produce a new addition to our range, the iSense 100% CO2 sampling logger alarm. Having this solution has enabled us to extend our reach
CO2Meter's iSense CO2 alarm (CM-0052). Source: GSSin specific industry applications, as very few monitors can measure up to 100%."
The iSense alarm (CM-0052) is suitable for both permanent and temporary installations in industrial applications. It can be used for a range of different processes, including monitoring and control, long-range data collection, sampling inspections, remote deployment and CO2 leak detection. The device is ideal for use in industrial settings, such as MAP applications, fermentation vats and barrels, biological incubators and agricultural storage.
Hicks explains, "The product shown here is the iSense CO2 alarm being used in an application for Controlled Atmospheric Packaging. We've paired the alarm with our hypodermic needle kit to make a complete solution for testing head space gas composition in modified atmosphere packaging. And looking at biological applications for instance, the addition of tubing would also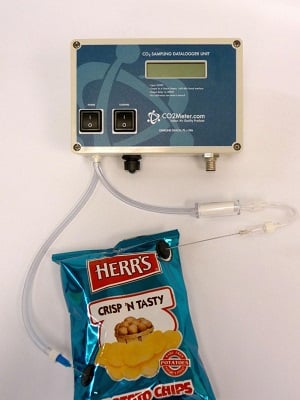 Monitoring CO2 levels in controlled atmospheric packaging applications with the CM-0052 - iSense 100% CO2 Sampling Controller Logger Alarm. Source: GSSmake this alarm suitable for measuring potentially dangerous concentrations of CO2 if this was a requirement."
The ExplorIR-W 100% concentration CO2 sensor inside the iSense provides an optimal fit with the industrial environments being measured.
Calum MacGregor, CEO at GSS said: "The sensor has a particularly robust design, thanks to its core mid-infrared LED technology. It's this solid-state platform that enables the earliest warning of any possible CO2 leaks. This also provides the exacting precision needed in leak detection and similar applications."
The close alliance between manufacturer GSS and its key partner is now approaching its tenth year. MacGregor concluded, "We have developed an incredibly valuable relationship with the team at CO2Meter. We share the common goals of ensuring that customers get the correct, fit-for-purpose solution for their specific needs, using cutting-edge CO2 detection technology. CO2Meter has an in-depth knowledge of gas detection technology, and delivers a first-class service to its clients. Together with their immense technical expertise, this makes them a highly valued partner for GSS, and we look forward to growing together further in the future."