Volvo believes the future of autonomous travel is a fully electric vehicle that doesn't have a steering wheel, a traditional dashboard or a combustion engine and that instead offers a place where passengers can do more productive work while they go on their way to work or to a vacation destination.
The concept 360c vehicle offers four uses for autonomous driving vehicles: a sleeping environment, mobile office, living room or entertainment space.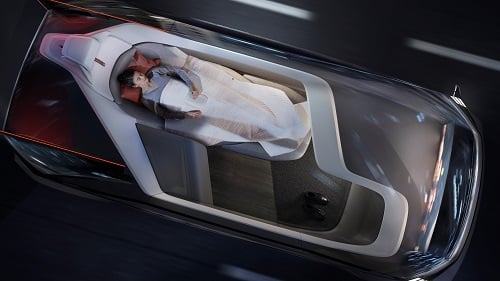 The 360c concept vehicle will have enough room for a passenger to sleep. Source: VolvoVolvo said the concept car potentially represents an alternative to short-haul air travel, especially on shorter routes where the distance between origin and destination is about 300 kilometers.
"The business will change in the coming years and Volvo should lead that change of our industry," said Håkan Samuelsson, president and CEO of Volvo Cars. "Autonomous drive will allow us to take the big next step in safety but also open up exciting new business models and allow consumers to spend time in the car doing what they want to do."
Volvo said the 360c carries implications for the future of travel, city planning infrastructure and modern society's environmental footprint. It also changes how people can interact with friends and family while on the move and the ability to recapture time while traveling.
The 360c is fully electric, which will help with combating environmental challenges such as less pollution, less traffic congestion and related health and lifestyle advantages for those living in cities.