Commercial UAV fleet operators will benefit from the latest product launch from Intelligent Energy, the fuel cell engineering company. InterDrone 2018 will be the launch pad for its latest lightweight product for the commercial UAV market.
The new 800 W fuel cell power module (FCPM) will be showcased at the event, alongside the company's 650 W FCPM, which was launched at InterDrone 2017. The modules have been specifically designed for the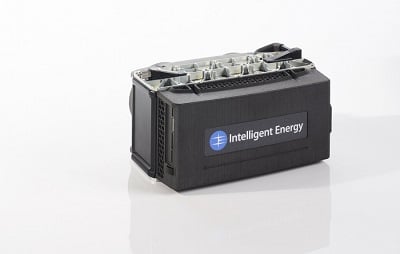 Source: Intelligent Energycommercial UAV market as they offer considerably longer flight time when compared to traditional batteries. Key benefits of using fuel cells to power UAVs include increased productivity, less downtime owing to quick refueling and increased payload capability. In addition to the UAV market, the FCPMs can also be used for a wide range of other applications such as portable power and robotics.
The new 800 W product is 10% more power dense than the 650 W FCPM. In real terms, this means UAV operators can carry around 1500 g more mass at the expense of only 100 g. This can be used to carry a larger hydrogen cylinder (significantly increasing flight time), or to increase the payload capacity of a UAV. Depending on the efficiency of other aircraft components, multicopters optimized around the 800 W FCPM could carry 1 kg for two hours or 2 kg for one hour. Fixed wing aircraft show even greater gains. In addition, Intelligent Energy will work with customers who have the capability and know-how to combine two 800 W modules to provide 1.6 kW of continuous power.
The 800 W product will be CE and FCC certified and is available to pre-order now, with first shipments planned for January 2019. The FCPMs use Intelligent Energy's air-cooled PEM fuel cell technology and run on hydrogen and ambient air to produce clean power in a simple, cost effective, robust and lightweight package. They can be integrated into UAV platforms without compromising payload, providing an optimised, operational solution for a wide range of industries.
For more information and to view the FCPM in action, visit www.intelligent-energy.com/our-products/uavs