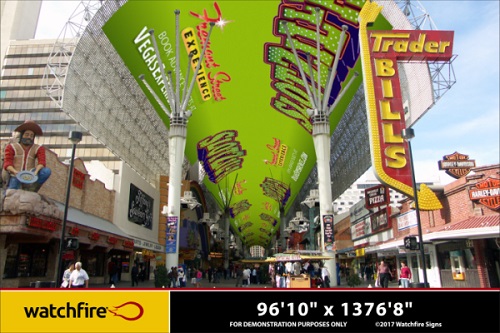 The Viva Vision canopy in the Fremont Street Experience in Las Vegas. Source: WatchfireDigital signage manufacturer Watchfire has been selected to rebuild the largest single video screen in the world that is part of the Fremont Street Experience in Las Vegas.
The Viva Vision canopy video screen will be updated for the first time in 14 years to a screen that will be seven times brighter than the original and four times sharper. The project will cost $30 million and will be completed in 2019.
Watchfire said the project will include a fabric-like module that can be trimmed and resized into thousands of shape configurations without impacting the information displayed. The design allows light to reach the street level and for the canopy to shed rain.
The project will include 130,000 square feet of digital signage with about 49 million light emitting didoes (LEDs) with 4,000 custom-designed 27 mm modules.
The Fremont Street Experience in Las Vegas gets about 20 million visitors annually and is surrounded by 10 casinos and 60 restaurants. The giant digital signage canopy is 1,500 feet long and is suspended 90 feet above a pedestrian mall. A light and audio show plays every hour in the evening and a zip line runs the length of the canopy.