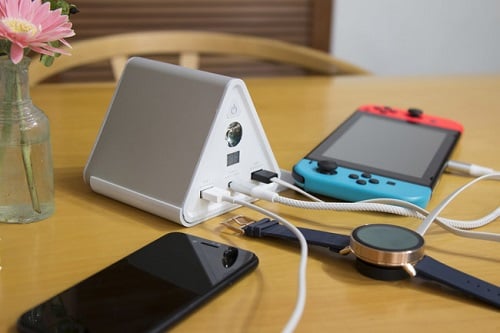 Power Mountain features three ports for simultaneous charging. Source: TRA Co.
A new, lightweight 50,000 mAh portable power bank has been launched on Kickstarter which can be used by people needing an on-the-go charge, or by preppers and campers during times when no power supply is available.
The Power Mountain power bank can deliver 17 full charges for an iPhone 7/8, 10 full charges for a Galaxy 7/8, seven full charges for a Nintendo Switch or two full charges for a MacBook Pro.
The power supply weighs 1.89 pounds, has three ports for simultaneous charging, a digital battery level indicator, LED light for outdoor or emergency use and has a drip and dust-proof cover made of shock-resistant aluminum, TRA Co. Ltd., the company behind the gadget, said.
The company said the power pack is particularly useful in emergencies such as blackouts, as the built-in flashlight can also guide users to a safe location or to additional lighting sources. Power Mountain includes a multi-protection system designed to auto-shutdown in the event of overcharging, over-discharging, overheating or short circuiting. The gadget contains a casing in barley paper that helps with insulation, flexibility and waterproofing.
TRA said it expects to begin initial delivery rollout in September of this year. The campaign is currently active and can be found at Kickstarter.