Current lithium-ion batteries used in electric cars are reaching their natural limit of how much charge they can hold. This limits how far an electric car can drive before it needs to be charged, and how many charge cycles the battery can withstand.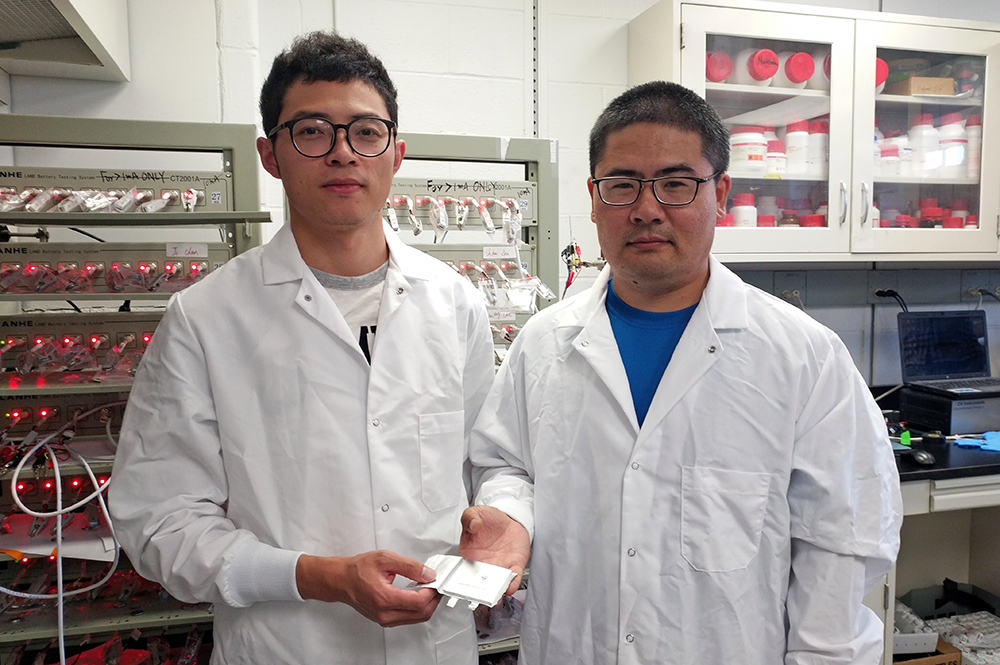 UMD researchers and partners have increased a rechargeable battery's capacity. (Source: University of Maryland/ARL/ANL)
Researchers from the University of Maryland, the U.S. Army Research Lab (ARL) and the Argonne National Laboratory (ANL) have teamed up to change this. The team set out to create a more reliable rechargeable battery. They developed a method that stabilizes potentially dangerous electrode materials with a highly fluorinated electrolyte to make reliable and long-lasting batteries.
"We have created a fluorine-based electrolyte to enable a lithium-metal anode, which is known to be notoriously unstable, and demonstrated a battery that lasts up to a thousand cycles with high capacity," said co-first authors Xiulin Fan and Long Chen, postdoctoral researchers at UMD's A. James Clark School of Engineering.
The new batteries have been able to charge and discharge many times over without losing their ability to provide consistent and reliable energy, and could hold 93 percent battery capacity after 1,000 charge cycles. During testing, the batteries were in a coin shape, like a watch battery.
The battery is made from aggressive materials - materials were characterized as such because they can hold a lot of energy and eat up the elements around it, making them unstable. The new electrolyte materials for the batteries were created out of the aggressive materials, but they needed to be stabilized.
"The aim of the research was to overcome the capacity limitation that lithium-ion batteries experience. We identified that fluorine is the key ingredient that ensures these aggressive chemistries behave reversibly to yield long battery life. An additional merit of fluorine is that it makes the usually combustible electrolytes completely unable to catch on fire," said Chunsheng Wang, professor in the Clark School's department of chemical and biochemical engineering.
Batteries were created out of many different mixtures of aggressive and other materials. Most of these batteries caught fire almost instantly, except the batteries that have fluorine in them. The fluorine is the key to making the batteries work and not explode.
"You can find evidence from literature that either support or disapprove fluorine as good ingredient in interphases," said Kang Xu, laboratory fellow and team leader of the research at ARL. "What we learned in this work is that, in most cases it is not just what chemical ingredients you have in the interphase, but how they are arranged and distributed."
The paper on this research was published in Nature Nanotechnology.