Heilind Electronics, a global distributor of electronic components and authorized distributor for TE Connectivity (TE), a global leader in connectivity and sensors, is now stocking TE's zQSFP+ stacked belly-to-belly cages with integrated connectors. The zQSFP+ solution addresses requirements for higher density switch and Open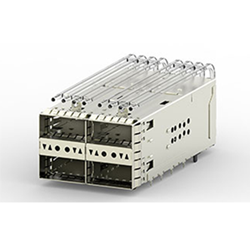 Source: Heilind Electronics, Inc.Compute Project (OCP) designs using next-generation 48 and 64 silicon ports.
TE's stacked cages support a single PCB architecture (versus two PCBs) in each line card, which could save the customer significant costs. These cages offer 4 channels (4x) of 28+ Gbps data rates and support 100 Gbps Ethernet as well as 100 Gbps InfiniBand Enhanced Data Rate requirements.
TE's zQSFP+ interconnects enable optical modules and cable assembly speeds to reach new levels, increasing data transfer rates by 2.5 times over existing solutions. Additionally, they can be used in 10 Gbps and 16 Gbps applications, are backwards compatible with QSFP/QSFP+ products and can support 56 Gbps PAM-4 technologies. Ideal applications include networking, switches, servers, routers and wireless base stations.
Visit Heilind's website for more information about TE Connectivity's zQSFP+ Stacked Belly-to-Belly Cages.