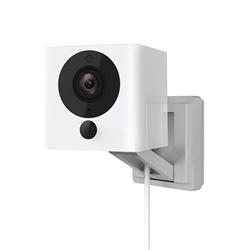 Spot+ can easily be mounted on the wall or sit on a shelf, and it's easy to re-arrange throughout the home. Setup takes only a few minutes. Source: IsmartAlarm, Inc.IsmartAlarm, Inc. has announced the launch of the Spot+ Smart Home Security Camera. The Spot+ camera builds on the previous Spot camera. It has increased resolution to 1080p and added features like live multi-camera split screen remote viewing in the app, manual recording and on-the-go mode.
The Spot+ camera has 1080p HD streaming video controls, free cloud video recording and storage, onboard 24/7 continuous local video recording storage, night vision, 8x digital zoom, intelligent motion detection, two-way audio, time lapse clips and quick voice-guided setup. IsmartAlarm's proprietary Sound Recognition algorithms identify and provide immediate notifications if they detect smoke alarm and carbon monoxide alarm sirens. All features and functions are supported by the IsmartAlarm cloud for free.
Spot+ can be used by itself, with a combination of other IsmartAlarm cameras and can also sync with an IsmartAlarm home's CubeOne hub. The system can be voice-controlled with the IsmartAlarm Amazon Alexa Skill, and all IsmartAlarm devices work together. The system can be expanded to use a customized assortment of IsmartAlarm devices.
To learn more about Spot+, IsmartAlarm.