Researchers from Tufts University have developed a prototype smart bandage that actively monitors the condition of chronic wounds through pH balance, temperature and oxygenation. The smart bandage can deliver the required drug treatments for serious injuries to help the wound heal. This bandage has so far only been used in clinical conditions but the researchers hope to have it ready for use outside of the lab soon.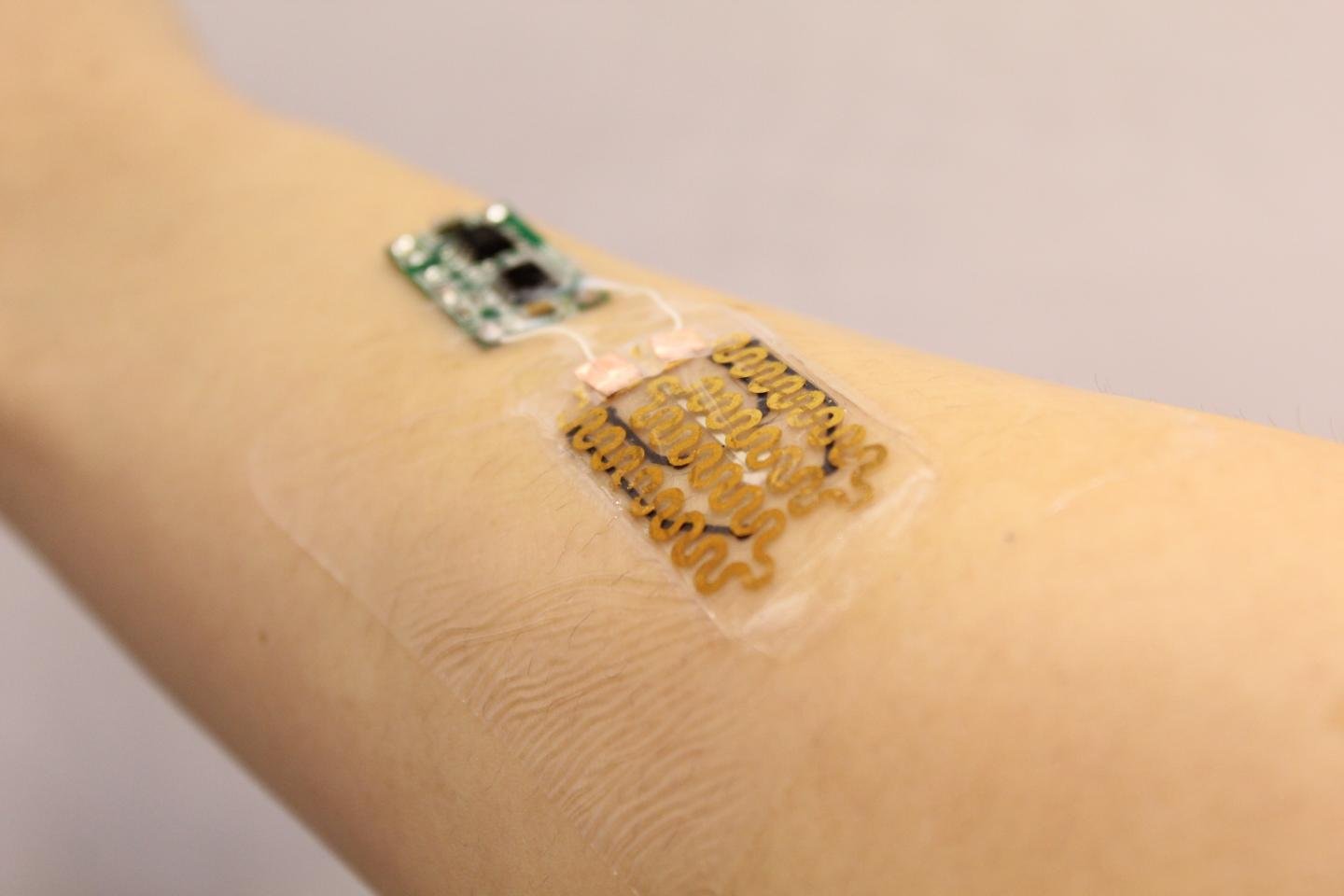 A smart bandage placed on an arm. Temperature and pH sensors in the bandage (right) are read by a microprocessor (left), which may trigger release of drug from the bandage by sending a current through heating elements. (Source: Tufts University)
The smart bandages have been designed with healing elements and thermoresponsive drug carriers for speedy recovery of serious wounds. The drug carriers deliver drug treatments that respond to the wound pH and temperature sensors that help track the infection and inflammation of the wound. The bandage monitors the wound in real time and delivers the required drugs without doctor, caretaker or patient intervention.
In chronic wounds, pH is a major key to monitor the healing process. Normal healing wounds typically have a pH of 5.5 to 6.5. A non-healing wound has a pH balance of 6.5. Temperature shows doctors how the healing is going as well as the level of inflammation.
Along with measuring temperature and pH, the bandage also measures and monitors oxygenation with integrated flexible sensors. Oxygenation is another indicator of how the healing process is going.
The microprocessors that are integrated into the bandages read the data from the sensors and then determine when to release drugs. The drugs are released by heating the gel in the bandage. All of the sensors and microprocessors on the smart bandage are attached to a transparent medical tape, creating a bandage-like look. The bandage is flexible and less than 3 mm thick. Most of the components of the smart bandage are relatively inexpensive, except the microsensors. While the microsensor is a little more expensive, it is also reusable.
"The smart bandage we created, with pH and temperature sensors and antibiotic drug delivery, is really a prototype for a wide range of possibilities," said report author Sameer Sonkusale. "One can imagine embedding other sensing components, drugs, and growth factors that treat different conditions in response to different healing markers."
The paper on the new smart bandage was published in the journal Small.