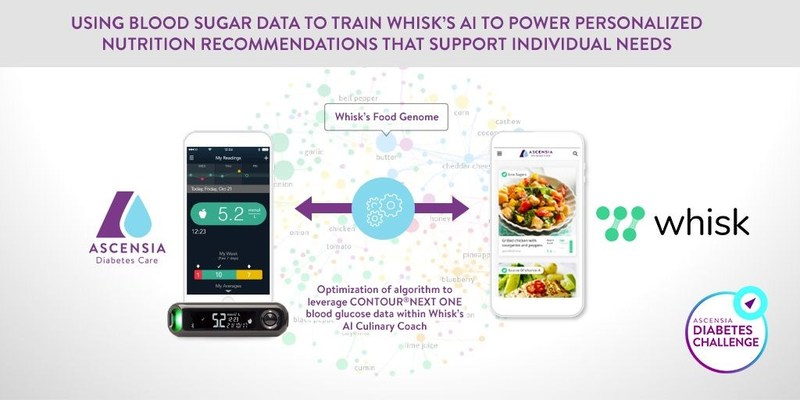 Proposed integration of Ascensia Diabetes Care's CONTOUR® NEXT ONE blood glucose meter, CONTOUR® DIABETES App and Whisk's AI Culinary Coach. Source: PRNewsfoto/Ascensia Diabetes Care
U.K.-based Whisk has invented a new Culinary Coach that uses artificial intelligence (AI) to provide food recommendations based on flavor preferences and food restrictions, especially adapted for people with diabetes. This technology won the Ascensia Diabetes Challenge, bringing it one step closer to being available to diabetes patients around the world.
The Whisk platform is an AI-powered nutrition platform that enables users to browse recipes based on factors including their personal taste preferences, time constraints, budgets, weather and dietary restrictions or allergies. When a user adds a recipe to their meal plan, it can be automatically added to an online shopping cart at some of the world's leading grocery retailers for easy grocery shopping.
Whisk plans to create a personalized food experience for people with type 2 diabetes. The platform will learn from blood glucose readings and make food recommendations that are tailored to their diabetic needs. The AI will learn how the user's blood glucose readings react to specific foods and recipes. This allows the user to build a meal plan that keeps their blood glucose in range. The Culinary Coach for diabetes will start by providing personalized recipe recommendations, and will in the future development to suggest convenience foods and restaurant options.
Whisk's core technology uses extensive food ontology known as the Food Genome, which incorporates and understands macro and micro-nutritional data, flavor compounds, store availability, price and promotions. Whisk is currently available in the U.S., U.K. and Australia.
To learn more about the Ascentsia Diabetes Challenge, visit the site here. To learn more about Whisk's Culinary Coach, visit the Whisk site here.