A new study conducted at University of Nevada, Las Vegas, says that women and young adults are more likely to experience a phenomenon called "iPad neck" than adult men. It presents as a persistent pain in the neck and upper shoulders caused by slouching or bending into extreme positions when using a tablet device, and is a growing problem among Americans.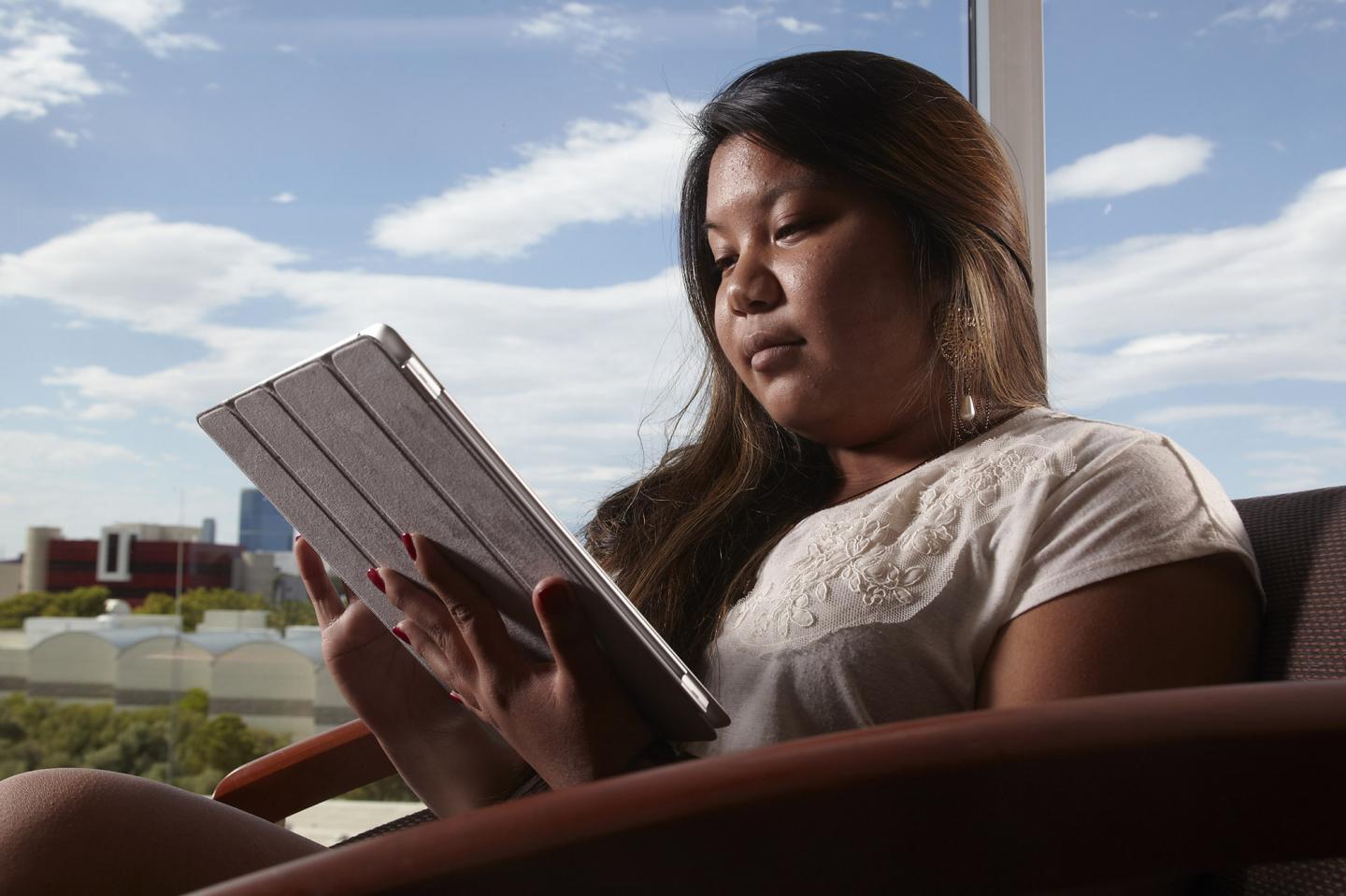 A UNLV study found that gender and posture are among the most significant risk factors behind developing "iPad neck." Source: R. Marsh Starks / UNLV Creative Services
Users typically experience neck pain when they sit without back support or slumping over the tablet, or when laying on their back or side.
"We were able to quantify exactly how frequent those problems are and what common factors contribute to them," UNLV physical therapy professor Szu-Ping Lee said. "Theoretically, the more hours you spend bent over an iPad, the more neck and shoulder pain you experience — but what we found is that time is not the most important risk factor. Rather, it's gender and specific postures."
The researchers surveyed 412 public university staff, faculty and alumni at the University of Nevada. Of the 412 people surveyed, 135 were men and 275 were women. The symptoms most frequently reported were: stiffness, soreness and aching pain in the neck, upper back, shoulders, arms, hands and head. Of those surveyed, 55 percent reported moderate discomfort, 10 percent reported severe symptoms, 15 percent reported that their pain affected their sleep and 46 percent said their pain stopped when they stopped using a tablet. Another interesting note: 70 percent of women reported some kind of symptom, while only 30 percent of men reported symptoms. The researchers found that 77 percent of women were more likely to use their tablet on the floor, compared to 23 percent of men who used their tablet on the floor.
The study found that iPad neck is more prevalent in young people than older people, and women are 2.059 times more likely to experience it than men. Not surprisingly, people who have a history of neck or back problems are overall more likely to experience iPad neck.
The UNLV team came up with some tips and tricks to help tablet users avoid pain. First, they suggest that users sit in a chair or area that provides proper back support. The team also suggests that users set up a reminder on their device — the actual tablet or a wearable — to remind them to adjust their posture. They suggest placing the tablet on a stand when using it. Regular exercise of the neck and shoulder muscles could also help with iPad neck.
The paper on this research was published in the Journal of Physical Therapy and Science.