With help from AI, scientists led by professor Stein Aerts have for the first time mapped the gene expression of individual brain cells during aging. The researchers created a "cell atlas" that showed how the brain works and operates as it ages. The new technique could provide insight on age-related diseases in humans.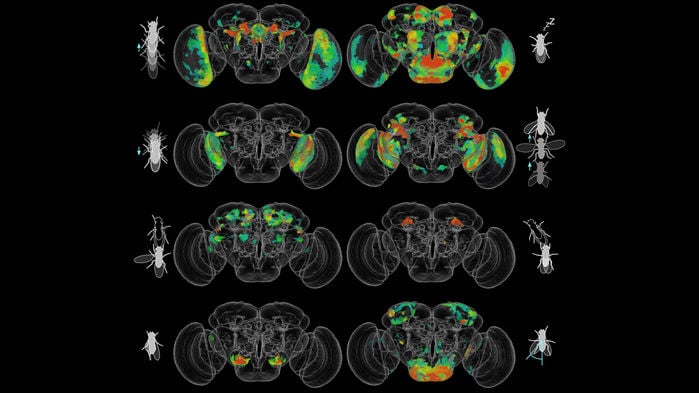 Examples of eight fruit fly brains with regions highlighted that are significantly correlated with (clockwise from top left) walking, stopping, increased jumping, increased female chasing, increased wing angle, increased wing grooming, increased wing extension, and backing up. Source: Kristin Branson
The researchers used the system to look at the brain of a fruit fly. The fly's brain is made of 100,000 different cells, including hundreds of types of neurons.
"All organs and tissues are composed of many different cells that communicate with each other to perform their specific functions," Aerts said. "Although they share the same DNA, they all express a distinct set of genes, and to understand what is really going on, we need to know which cells are doing what and when."
In order to mine the huge amount of data about this complicated network, the team turned to AI. Their machine-learning methods helped predict the age of a cell based on data from fly cells at different ages.
"Cells constantly change their role: as they age, in response to changes in the environment, upon disease," Aerts explained. "The holy grail is to assess the molecular state of a patient's tissues and cells in real time, allowing for early diagnosis of any disease and effective, personalized treatments. But to get there we need to develop both the models and the tools to understand the dynamics of cellular changes."
As of 2018, the project represents the finest level of detail in whole-brain analysis experiments. The next step for the researchers is to develop more biomedical applications for this technology and produce detailed scans of human brains.
The paper on this system was published in the journal Cell.