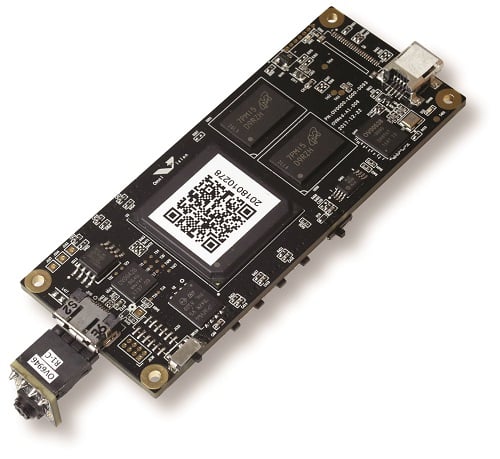 The OVmed medical image sensor. Source: OmniVisionOmniVision Technologies Inc. has rolled out three high-definition medical image sensors for different healthcare instruments.
The OVMed is a mixed-signal image signal processor designed for medical, veterinarian and industrial endoscopy applications. The device comes in two versions: The mini version is compact enough to fit inside an endoscope handle for mobile, ambulatory or other environments that connect directly to a tablet or PC; and the larger, advanced version that resides inside the camera control unit.
The OH01A uses the PureCel-S stacked-die architecture to provide a compact size, high resolution and the cost effectiveness required for next-generation disposable and reusable endoscopes and catheters. The image sensor provides images for doctors with improved sensitivity, high full-well capacity, no blooming and low color crosstalk. The image sensors can be synchronized to create 3D images for surgical procedures, a power consumption of 25 percent lower than the previous generation and a 1,280 by 800 resolution at 60 fps.
Finally, the OV2741 image sensor provides 1,080 p full HD resolution and high image quality for jitter-free, full HD video for endoscopic surgical procedures. The device has a broadband double anti-reflective coating on its cover glass to eliminate glare, ghosting and reflections due to strong illumination. The single sensor integrates one-time programmable memory to store manufacturing and calibration information. It also has an on-chip pulse width modulator to drive LED illumination without the need for an external driver IC.