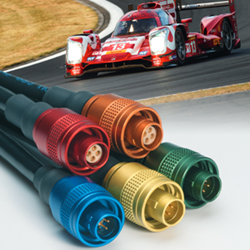 Source: Heilind Electronics
Heilind Electronics, a global distributor of electronic components and authorized distributor for LEMO, has expanded its selection of harsh environment interconnects with the manufacturer's M Series connectors with anodized surface treatment.
Like LEMO's other M Series ratchet coupling connectors, the anodized version is lightweight, compact and high-density. The anodized colors aid in identifying connections and remain visible even after extensive use in extreme environments. The connector is also IP68-compliant, vibration-resistant and offered with a variety of gasket and sealing options to enhance resistance to oil and fuel.
The highly versatile anodized M Series is available in eight sizes, and the colors can be applied to 37 connector models. Additionally, the connectors accommodate a variety of contact configurations and cable diameters ranging from 2.8 to 14 millimeters.
Because of their rugged design and versatility, LEMO's anodized M Series connectors are ideal for use in motorsports, onboard electronic systems, test equipment, radio systems and automotive wire harnesses.
Visit Heilind's website for more information about LEMO's M Series connectors with anodized surface treatment.