Swiss start-up Fazup has launched its innovative solution to drastically reduce mobile phone radiation.
Fazup is an extra-thin patch including a passive antenna that regulates and reduces the radiation emitted by the mobile phone toward the head when a call is made and toward the body when a user carries a phone on their person.
Mobile phone radiation was classified in 2011 as "possibly carcinogenic to humans," but there is currently no global scientific consensus on this subject. This lack of clarity and regulation means that nothing is being done to protect mobile phone users.
Fazup was created in recognition of the fact that it might take many years for scientists to reach a consensus while millions of people are degrading their health, unaware they are constantly overexposed to mobile radiation. The Fazup anti-radiation solution, which is scientifically proven to reduce SAR levels of mobile phone, makes the head and body less exposed to harmful electromagnetic waves.
How Does It work?
When in operation, mobile phones emit more radiation than necessary, especially while establishing communication. It gets even worse when the network signal is weak or when traveling at high speed (the "expected emission strength" standard is old and network coverage has been improved widely). The exposure to mobile radiation varies from 1 to 1,000 depending on network reception quality. The less network a user has, the more they are exposed when communicating (1 minute in the worst conditions is equal to 5 hours in the best conditions).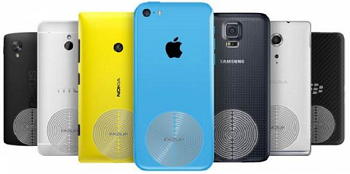 Source: FAZUP
Fazup deals with this "excessive emission." The patch includes a passive antenna in conductive silver ink, which is precisely and specifically applied to the back of each compatible mobile phone (close to its antennas). The passive antenna allows for optimization of the power control of a mobile phone and significantly reduces the amount of radiation emitted toward the user. As a result, the user is always protected. The protection is higher when in poor network conditions and lower when there is a perfect signal.
How Does the Patch Optimize the Power Control and What is a Specific Position?
Metal objects interfere with electromagnetic waves, but Fazup makes this process controllable through two solutions:
A specific form of Fazup contour which is designed to work (or interfere) with all basic frequency bands (2G, 3G, 4G) used all over the world. That is band optimization.
A specific position for each phone model is found through the in-lab near-field radiation (NFR) pattern measurement. This test consists of an empiric selection of the position of the patch which reduces radiation emissions while keeping high network signal quality. The aim is not to make the radiation as low as possible, but to decrease it to a safe level, keeping the user within a safe range (a marginal impact on signal quality rarely occurs with mobile phones with low network sensitivity and at the limit of network coverage). That is position optimization.
For the patch to be effective, it must be placed in a specific position for each phone model. To make this easy for users, Fazup has developed and patented a smart positioning tool included in each product kit, which helps users to install the patch to its optimal position with millimeter precision.
SAR Reduction up to 99 Percent
SAR (specific absorption rate) is the only international standard applicable for all cell phones in the market. It quantifies the maximum amount of energy absorbed by the user's head and the body when communicating (energy equals heat). Safe levels of SAR for head and body must be less than 2 W/kg. In the laboratory tests, the SAR is measured in the worst network coverage conditions, when your mobile phone works at maximum emission power.
Fazup delivers an average SAR reduction of 80 percent, increasing to 99 percent for certain cell phone models and frequency bands. All SAR tests were conducted by EMITECH, French COFRAC accredited laboratory (French Accreditation Committee) used by French Radiofrequency Agency (ANFR) and French Sanitary Agency (ANSES) for their SAR measurements.