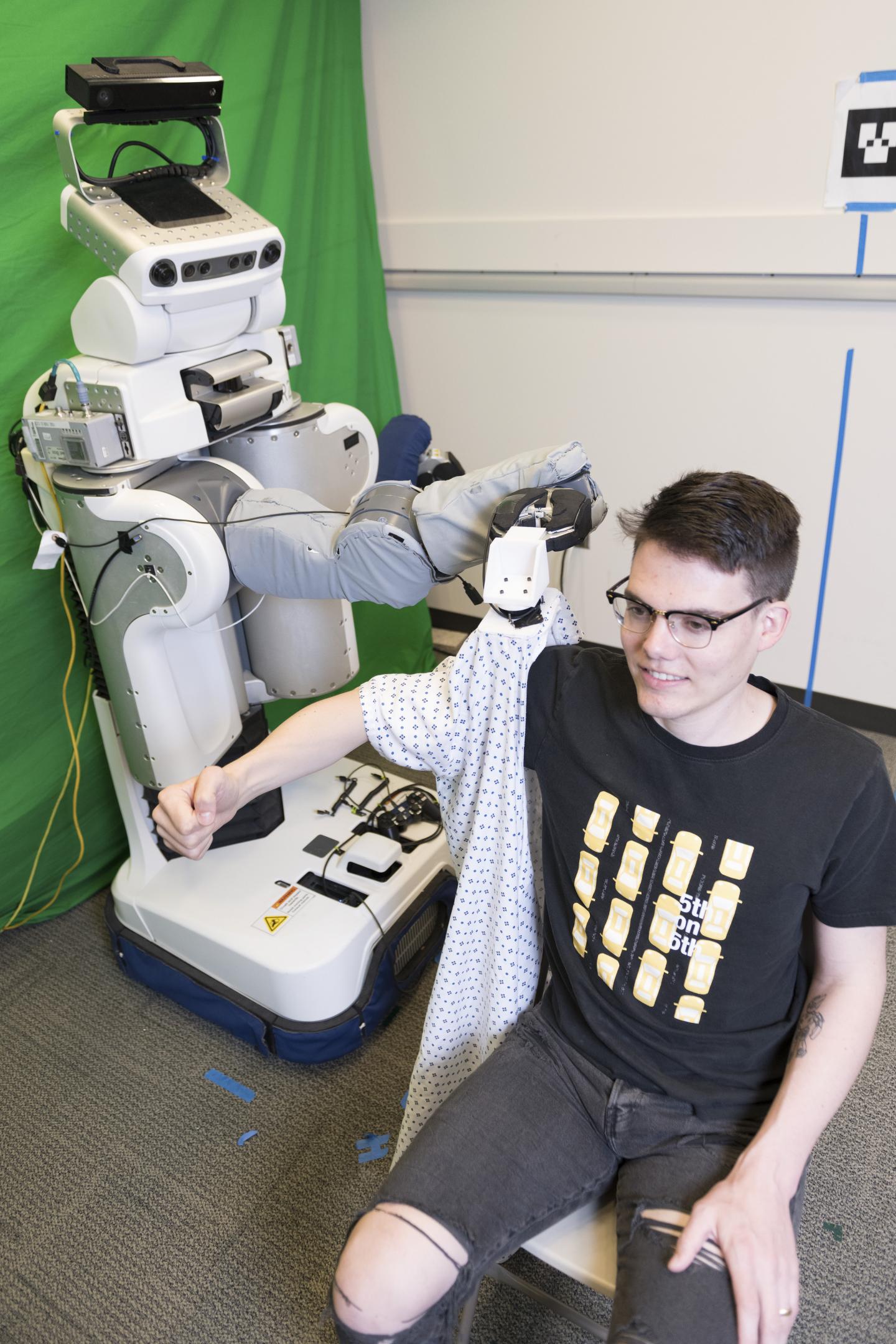 A PR2 robot puts a gown on Henry Clever, a member of the research team. Source: Georgia Tech
There are a number of new robots continuously being developed that are designed to help humans with daily activities. From smoothie making to fighting loneliness, it seems like there is a robot for almost anything. One of the latest developments is a robot that can help humans get dressed. PR2, developed by researchers from the Georgia Institute of Technology, is a robot that was developed to help humans get dressed every day for reasons such as age, disease or injury. Currently, PR2 can help a human put a hospital gown on a human's arm, but researchers hope to further develop the robot so that it can one day assist patients in hospital beds with getting dressed.
PR2 robot helps humans get dressed not through sight, but through touch. The robot relies on forces it feels while guiding a garment onto an arm to figure out what to do next. PR2 taught itself how to do this in one day by analyzing over 11,000 videos and simulated examples of a robot putting a garment on an arm. Some of these simulations were perfect, and some were complete failures. PR2 was able to watch these simulations and learn how to execute the dressing action and what level of force to use with humans. PR2 can predict what might happen when moving the gown in certain ways, like pulling against the person, and choose the right way to dress them. PR2 learned through trial and error, just like a human does.
"The key is that the robot is always thinking ahead," said Charlie Kemp, an associate professor in the Wallace H. Coulter Department of Biomedical Engineering at Georgia Tech and Emory University and the lead faculty member. "It asks itself, 'if I pull the gown this way, will it cause more or less force on the person's arm? What would happen if I go that way instead?'"
When the robot was able to learn through simulations, it was then tested by dressing real people. The research team watched the robot in action to learn what needs to be changed and improved. They tested the robot's efficiency by varying the timing it had to predict what its next move needed to be. They found that varying the timing by as much as a fifth into the future allowed the robot to accurately predict what to do next.
Currently, PR2 can put one arm into a hospital gown in 10 seconds. The researchers hope that they can develop the robot to help people get fully dressed and even be employed in homes where people need long-term help.
Read the paper on the PR2 dressing robot.