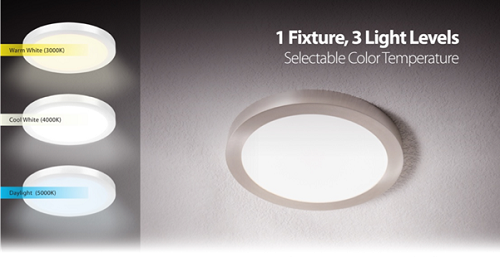 The Edge Lit Flat Panel Fixtures can be installed with pre-chosen light temp or be adjusted by wall switch. Source: FeitFeit Electric has launched a new product line that create varying moods throughout the house for reading, relaxing or boosting energy without the need for special smart home hardware or apps, as the intelligence is built into the light fixture.
The Edge Lit Flat Panel Fixtures and Retrofit Kits with Selectable Color Temperature allows homeowners to choose warm white, cool white or daylight on the fixture before installing or by adjusting the light by toggling a wall switch.
Feit said the products provide contractors, maintenance and repair professionals the opportunity to reduce their inventory requirements by stocking one flexible fixture with multiple color temperature settings.
The LED flat panel lighting includes uniform light distribution without hot spots, flicker or glare, as well as the ability for flush mount, wall sconce or recessed can installation, and up to 50,000 hours of life and 80 percent energy consumption.