It is important for farmers to understand everything about their fruit trees. They need to understand the growth of branches, leaves, fruit and overall health of the trees. Before a farmer can grow healthy trees, they need to have advanced knowledge. They also need to be willing to observe their trees daily. But this type of daily attention is time-consuming. A tree management system has been developed with cameras that produce a 3D reconstruction of the trees, making daily check-ins with trees much easier. The system automatically models 3D plant shapes and branch structures from images of trees. This kind of system is important because it saves the farmer time as well as ensuring healthy tree growth.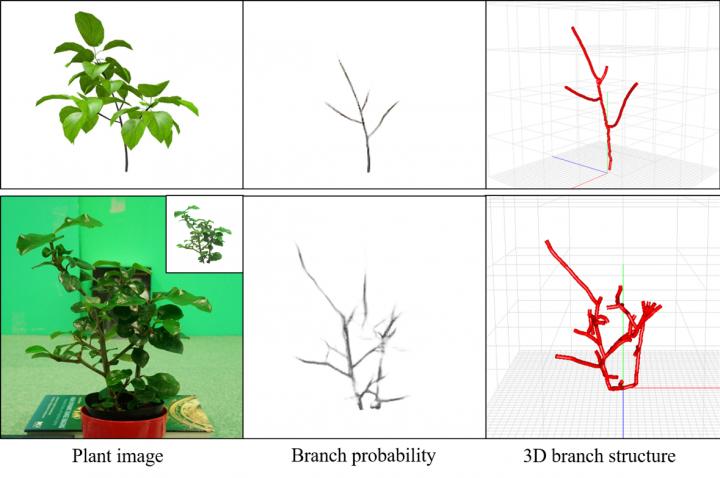 This is the estimated 3D plant branch structure. Source: Osaka University
3D reconstruction of trees for management purposes has been created before. But the older systems have been unable to reconstruct the trees if the given photos don't give a 100 percent clear image of the plants. This leaves some parts of the tree out, so farmers may miss some major red flags that their tree is not doing well.
The new tree system uses an image-to-image translation approach within a Bayesian deep learning framework and 3D reconstruction. The team that developed the system was led by Fumio Okura, who created an algorithm that is able to recreate an image of a fruit tree even if the original image is not complete by estimating where the missing areas may be.
The system allows farmers to see every part of their tree without having to actually go into the field or use a drone. It also helps predict how their plant will grow and what the best trimming or pruning method will be for the individual plants.
The paper on this research will be published in Computer Vision Foundation Open Access in June 2018. The research team is presenting their findings at the EEE/CVF Conference on Computer Vision and Pattern Recognition (CVPR 2018) in June.