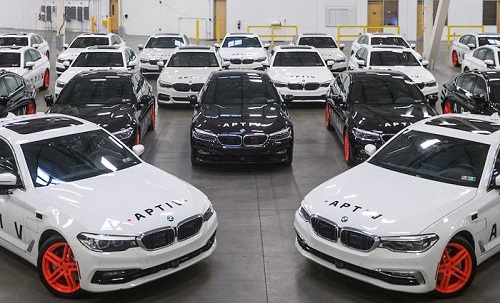 The partnership will use Aptiv's connected services platform with the ride-hailing capabilities of Lyft. Source: Aptiv
Automotive mobility vendor Aptiv PLC has launched a fleet of 30 autonomous vehicles in Las Vegas on the Lyft network.
The vehicles will operate on Aptiv's fully-integrated autonomous driving platform and made available to the public through a partnership with Lyft. Passengers in Las Vegas will have the ability to opt-in to the program to hail a self-driving car equipped with Aptiv technology to and from high-demand locations.
The multiyear partnership with Lyft will leverage the company's connected services capabilities with Lyft's ride-hailing experience to provide insights on self-driving fleet operations and management.
"With Aptiv's autonomous driving technology deployed throughout Las Vegas and broadly accessible through the Lyft app, a wide range of consumers will be able to share the experience of autonomous vehicles in a complex urban environment," said Kevin Clark, Aptiv president and CEO. "More importantly, the resulting knowledge and data will allow us to further refine our autonomous driving capabilities and strengthen our portfolio of industry-leading active safety solutions."
This program is part of a partnership that began during this year's CES 2018 where the companies provided more than 400 self-driving rides to the public and earned a customer rating of 4.99 out of five stars. Like the CES program, the vehicles will be operated by safety drivers that can take over control of the car if needed.
The autonomous vehicle program will be available to the general public in Las Vegas beginning on May 3.