There's a reason airlines recommend that passengers keep their safety belts buckled throughout the entire flight. If an airplane hits a patch of rough air known as turbulence, unsecured travelers could be thrown from their seats, resulting in serious injury.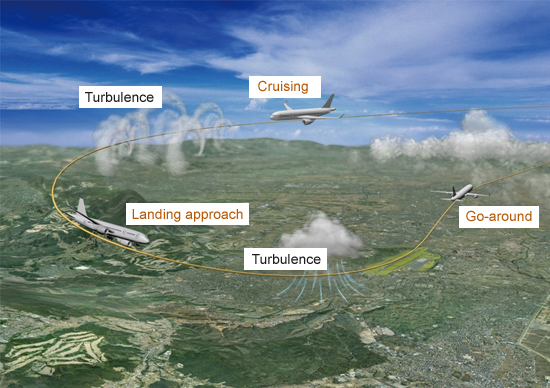 With advanced turbulence warning, pilots would have a chance to alert passengers or alter flight paths to reduce the chance of injury or avoid rough air. Source: JAXA
In the absence of clouds, these areas of violent air currents — so-called clear-air turbulence — are invisible to pilots. With no visible clues about their locations, pilots have no way to avoid the trouble zones nor alert passengers to the danger before the plane starts lurching fiercely.
But a new system undergoing flight testing by Boeing and the Japan Aerospace Exploration Agency (JAXA) could alleviate the situation by providing advanced warning for aircraft headed into turbulent air.
Capable of detecting clear-air turbulence up to 17.5 km in the distance, JAXA's Doppler LIDAR (Light Detection and Ranging) technology has been installed on Boeing's ecoDemonstrator aircraft to verify its effectiveness ahead of deployment on commercial aircraft.
Preventing Injury
Turbulence and wind shear — rapid changes in wind speed and direction — expose an aircraft to significant external forces that shake its airframe, presenting a number of risks to aircraft passengers. The Federal Aviation Administration (FAA) reported a total of 563 serious injuries caused by turbulence from 2002 through 2016. Moreover, encountering wind shear during landing can cause a loss of lift that results in a hard landing.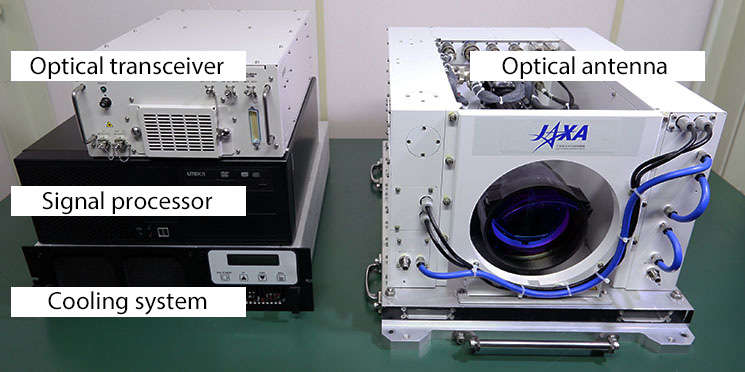 A recent iteration of JAXA's Doppler LIDAR clear-air turbulence detection system. The technology has been significantly miniaturized since the earliest prototypes. Source: JAXA
Doppler LIDAR's 17.5 km window of detection would provide around 70 seconds of warning for a pilot flying an aircraft at a typical cruise speed, allowing sufficient time to tell passengers to return to their seats or even change course to avoid the turbulence entirely. For planes on a runway approach, pilots would have a chance to decide to circle back around to wait for safer landing conditions.
In an interview published in JAXA Aeronautics Magazine, SafeAvio Project Manager Shigeru Machida indicated that one study found that about half of the passengers aboard a jumbo jet who had left their seats would have enough time to return given one minute of warning.
Machida emphasized the importance of turbulence detection. "When speaking with airline officials, it's clear how they view clear-air turbulence as an extremely important issue affecting safety," he said. "In particular, pilots express their desire for information on clear-air turbulence ahead of the aircraft, no matter how soon before encountering turbulence that information is received. JAXA is highly motivated to provide solutions to these needs."
Sensing the Unseen
JAXA's LIDAR unit functions by using the Doppler effect to detect the movement of aerosol particles, such as dust and tiny water droplets, suspended in the air. Since these particles move along with air currents, their motion will be violent if turbulence is present. To detect the motion, the device sends out dual pulses of light from a laser. The particles scatter and reflect the pulses and a sensor measures variations in the wavelengths of the reflected pulses to determine the existence and location of turbulence in the path of the laser.

JAXA's Doppler LIDAR detects clear-air turbulence by bouncing laser pulses off aerosol particles to track their motion. Source: JAXA (Click to enlarge.)
The aerosol particles are difficult to detect. Ranging in size from only around 1 nm to 100 µm in diameter with a density of only one particle per cubic centimeter at a typical jetliner cruising altitude of 10 km, the particles' minuteness and scarcity necessitate a powerful laser in order to perceive them. Even then, the weak signal must be processed through a series of integration operations to distinguish it from background noise.
But JAXA engineers have worked to perfect the technology over a long development history, and it is now nearly ready for prime time. The agency began basic research into turbulence-detecting LIDAR technology in 1998, and has been working with Boeing since 2010 to integrate it into commercial aircraft. The technology was advanced under JAXA's SafeAvio research program.
JAXA is also working on a control system that would counteract the effects of turbulence by adjusting the plane's flight control surfaces automatically based on data provided by the LIDAR system. The new technology could arrive just in time to counter a nearly three times increase in mid-air turbulence caused by climate change in the coming decades.