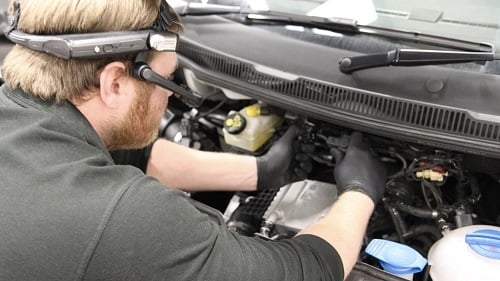 A technician uses the RealWear HTM-1 device to work on a vehicle. Source: RealWearRealWear has formed an agreement with Volkswagen Commercial Vehicles to begin testing augmented reality devices in 10 Volkswagen Van Centres in the U.K.
Ahead of a national rollout, the augmented reality trial will aim to ensure that Volkswagen cars are on the road longer and if they go to a repair center, reduce the time it takes for the repair to be completed.
Technicians will slip the RealWear HMT-1 head-mounted device onto a safety helmet or bump cap and connect directly with the Technical Support Centre at Volkswagen Commercial Vehicles' head office in Milton Keynes. The device is designed for loud workshops, dark and tight areas or areas that require light and hands-free use in rugged environments.
The augmented reality device could significantly reduce service time as technicians will be able to consult with other experts throughout the diagnosis and report of the vehicle, Volkswagen says.
"The RealWear HMT-1 device is solving one of industry's major dilemmas by bringing the right information to every frontline worker in real time, reducing downtime and improving productivity," says Andy Lowery, RealWear's Co-founder and CEO. "We will work closely with Volkswagen Commercial Vehicles to ensure a successful pilot and rollout to allow them to give the best support to their customers."
The technology sends visual instructions remotely to the Volkswagen Van Centres and field technicians serving as a virtual technical support agent, guiding technicians through complex repairs by augmenting images, wiring diagrams and repair suggestions into their view while they are working.
Already in the early stages of the pilot program, augmented reality combined with existing digital services, such as screen-sharing of diagnostic equipment and remote control of vehicle functions, has been a powerful tool for vehicle repair, the companies say.