Kid-proofing is a major part of every parent's life. Kids are messy and they don't understand what areas need to be avoided so they don't get hurt and they don't hurt expensive gadgets. A child spilling their drink all over a parent's brand new phone is one of a parent's constant fears. Anish Tuteja, Univerisity of Michigan materials science researcher, has found a solution that should ease parent's fears. Tuteja has created a durable clear coating that has the ability to repel water, oils, alcohols, peanut butter and juice. You name it, the coating repels it.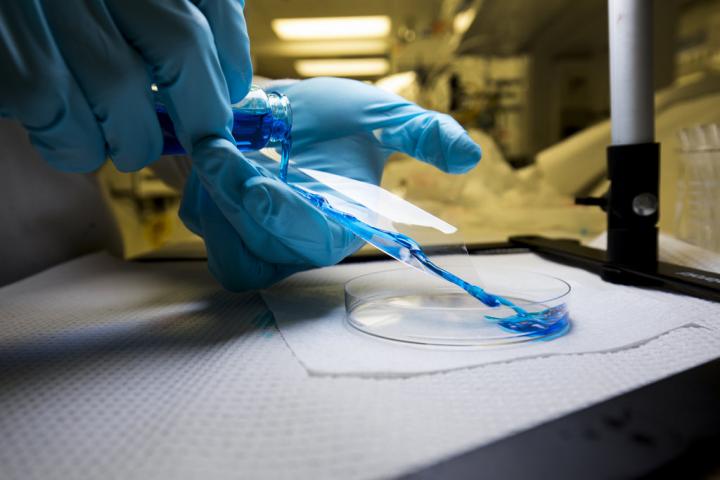 The new coating could grime-proof phone screens, countertops, camera lenses and countless other everyday items. Source: Michigan Engineering
The new material is "omniphobic" which means it repels almost every liquid you can think of. It is the latest development in coatings from Tuteja's lab. His team has been able to produce coatings that repel ice and water and one coating that was omniphobic, but that coating was very fragile and was not going to be usable in real life situations. The newest omniphobic coating is the first coating the team has developed that is durable, clear and can be applied to all surfaces.
When thinking about what this new coating could be used for, Tuteja thought back to his own life. "I have a two-year-old at home, so for me, this particular project was about more than just the science," he said. "We're excited about what this could do to make homes and day cares cleaner places, and we're looking at a variety of possible applications in industry as well."
The new coating comes from the systematic approach that the team takes. This approach is different from the "mix-and-see" method that is traditionally used in materials science research. The team mapped out the fundamental properties of many substances which allowed them to mathematically predict how two materials will behave together. The team was able to find endless combinations that have specific properties.
"In the past, researchers might have taken a very durable substance and a very repellent substance and mixed them together," Tuteja said. "But this doesn't necessarily yield a durable, repellent coating."
When trying to develop the new coating, the team found that the key was "partial miscibility," when two substances can mix together to create a durable product, even if the substances are not durable in their un-mixed state.
One of the biggest challenges that the researchers faced was making the coating clear. To do this, they had to find two materials that could mix well together and stay smooth during processing and drying.
"You can repel water with a rough surface that creates tiny pockets of air between the water and the surface, but those surfaces don't always repel oils or alcohols because of their lower surface tension," Tuteja said. "We needed a very smooth surface that interacts as little as possible with a variety of liquids, and we also needed ingredients that mix together very well, because too much phase separation between ingredients will scatter light."
In the end, the team mixed fluorinated polyurethane and F-POSS, a fluid-repellant molecule, to create the coating. This mix can be sprayed, painted, brushed, dipped or spin-coated onto almost any surface.
"The repellent and binder mix together well enough to make a clear coating, but there's a very small amount of phase separation between them," said Mathew Boban, a materials science and engineering graduate researcher. "That separation allows the F-POSS to sort of float to the surface and create a nice repellent layer."
The coating will be inexpensive for customers once it reaches the mass market. F-POSS is currently expensive but manufacturers are working on scaling it up for mass production and lower the cost. There is still some development that the coating needs to go through before being launched for consumer purchase, so there is plenty of time for the cost of F-POSS to be lowered.
Tuteja is also working on it developing the material to be non-toxic. He wants the material to be used in daycare centers, schools and more. Tuteja believes that coating could be on the market within two years.
The paper on this research was published in ACS Applied Materials & Interfaces.